Directions
Today I'm sharing with you this amazing recipe for a

Key Lime Cheesecake

. Everybody loves cheesecake so it's always a dessert winner if you ask me.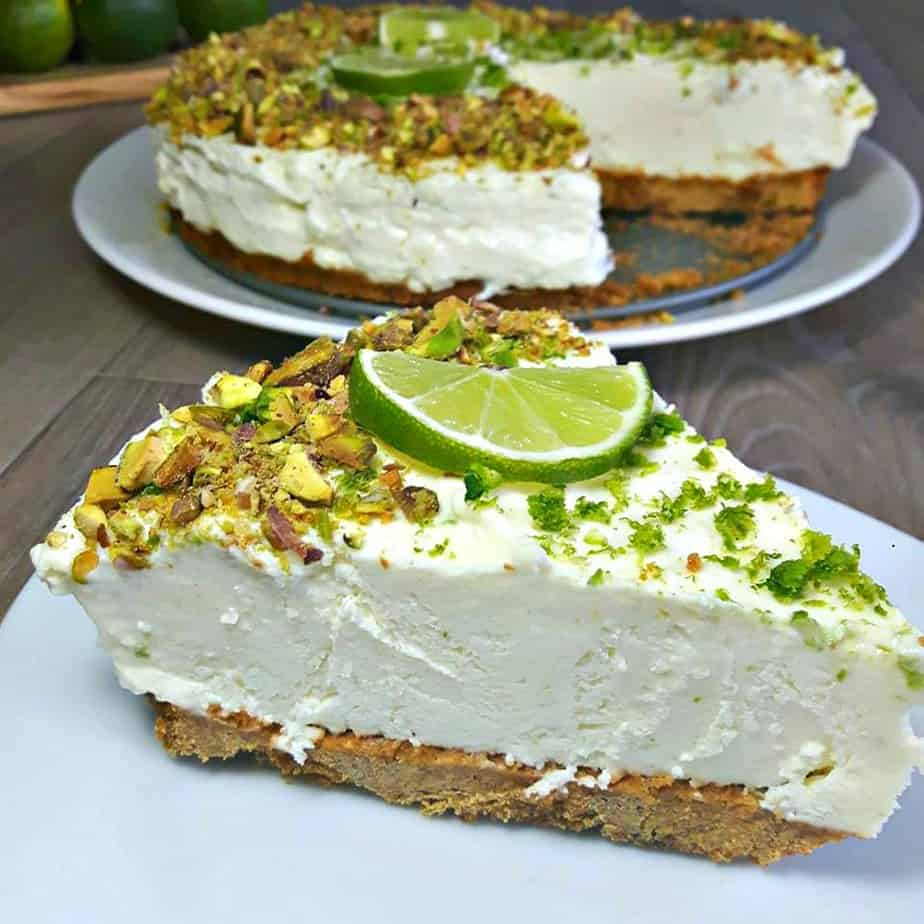 I usually add whip cream to the top of this cheesecake as well.
However the holidays are right around the corner and I thought why not make it festive by adding some Pistachios crumbled on top instead.
Doesn't it look so fancy?
WHAT DOES KEY LIKE CHEESECAKE TASTE LIKE
Just like the key lime pie only in a cheesecake.
So if you love cheesecake and love key lime pie you are sure to love this recipe which combines both cakes into one amazing cake.
IS KEY LIME CHEESECAKE GOOD
Yes it is one of my favorite cheesecakes ever! Then next to this cake, would be my other favorite cheesecake which is also on this blog.
Try it if you can, Cherry Cheesecake!
The first time I tried Key Lime pie was at one of our local restaurants a few years back, my first thought was how come I have not tried this sooner.
Maybe it's because I live in Canada where it's more cold than warm.
But really that is not any kind of good excuse, I was immediately a hooked the first time I tried it.
So much so that I make it quite often now and even have a great recipe for the pie on this blog too, so go check it out!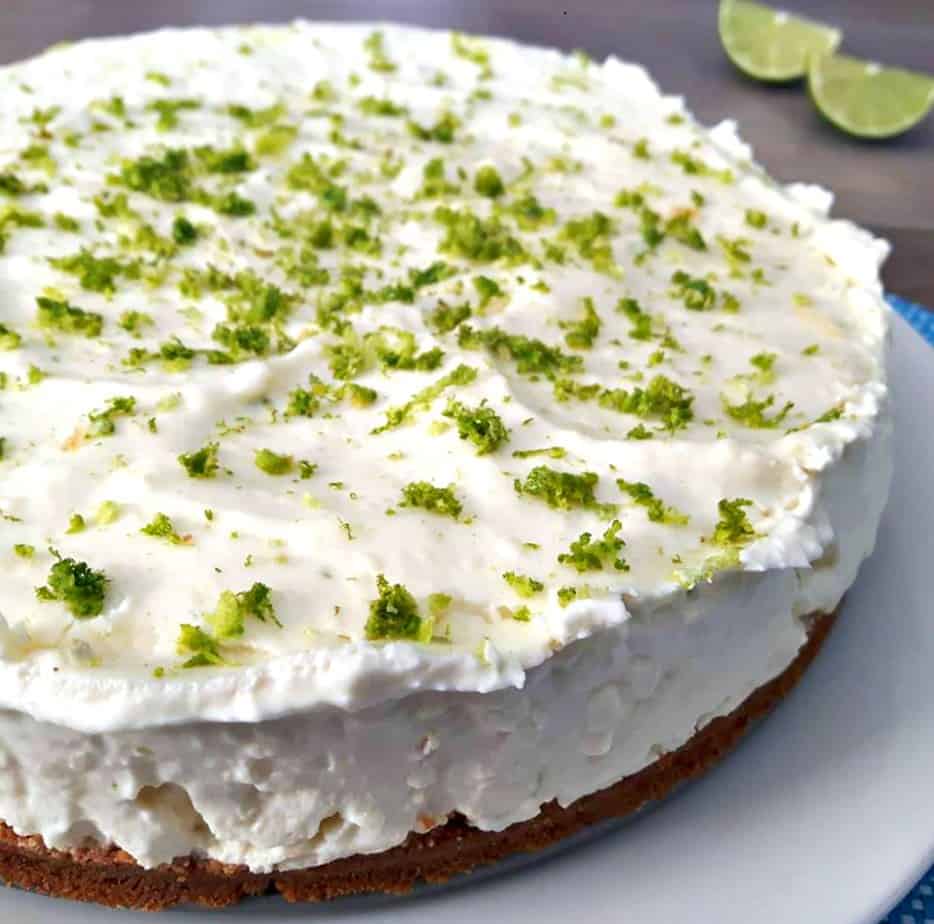 CAN KEY LIME CHEESECAKE BE FROZEN
YES, you can freeze any type of cheesecake. Just be sure to wrap it tightly with aluminum foil or freezer wrap.
I just love no bake cheesecakes!!
If you have not tried one before, then I encourage you to give it a go.
This is a no bake cheesecake, has a graham cracker crust, and is filled with cream cheese, condensed milk, vanilla extract and a little sour cream, oh and the juice from 10 limes, can't forget the most important part.
I used a 8 inch cheesecake pan, this is the size I like most because it gives you a more taller and thicker cheesecake which can serve 12 people.
There really isn't much to this recipe, just follow the basic steps below and you will have the most amazing Key Lime and pistachio cheesecake ever.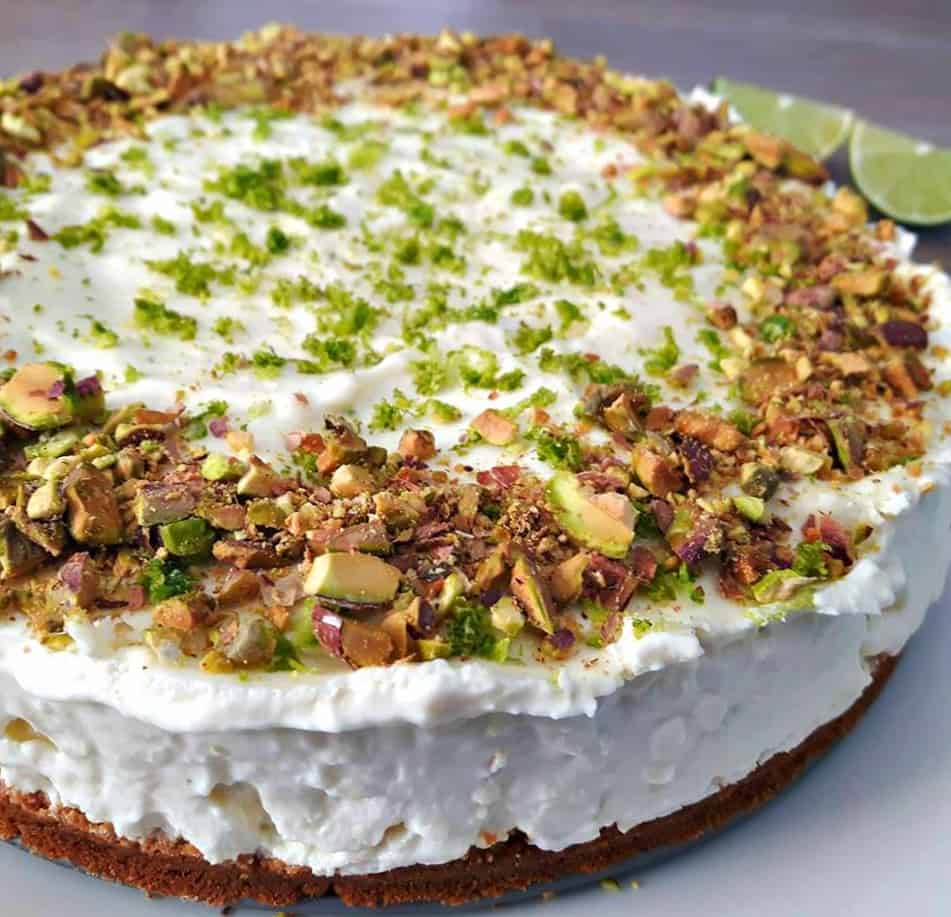 The awesome part about this cake is that you won't have to spend all day in the kitchen baking, it really takes less than an hour to prepare.
Then the rest of the time is spend in your freezer, setting.
Also make sure you defrost the cheesecake for anywhere from 20 – 30 minutes on the counter prior to slicing and serving.
This way you will have a creamy cheesecake, he really likes it creamy.
HOW TO MAKE A KEY LIME CHEESECAKE
You will want to start by either making the crust from scratch or buying a pre-made one. I highly recommend doing it from scratch though as it is not only simple to do but tastes way better.
Then you will want to make the filling – (see recipe below for those institutions)
The then topping – (see recipe below for those institutions)

Once it's on the serving tray, sprinkle around the outer edge with the crushed pistachios.

Set cheesecake on the counter for another 20 minutes and then slice and serve. Enjoy!
During the defrosting time you can start to decorate it with the lime zest and pistachios.
Simply leave the cheesecake in the cheesecake pan on the countertop, and zest one lime overtop, release the cheesecake half way through defrosting and be sure to keep the metal bottom on in tack.
This ensures the cake stays together during serving, simply sparkle your crumbled pistachios over the out part of the cake prior to serving.
I think this cheesecake could be a staple at any holiday event, because I have yet to find someone who doesn't love the fresh taste of key lime in their dessert.
Don't forget the limes and zest!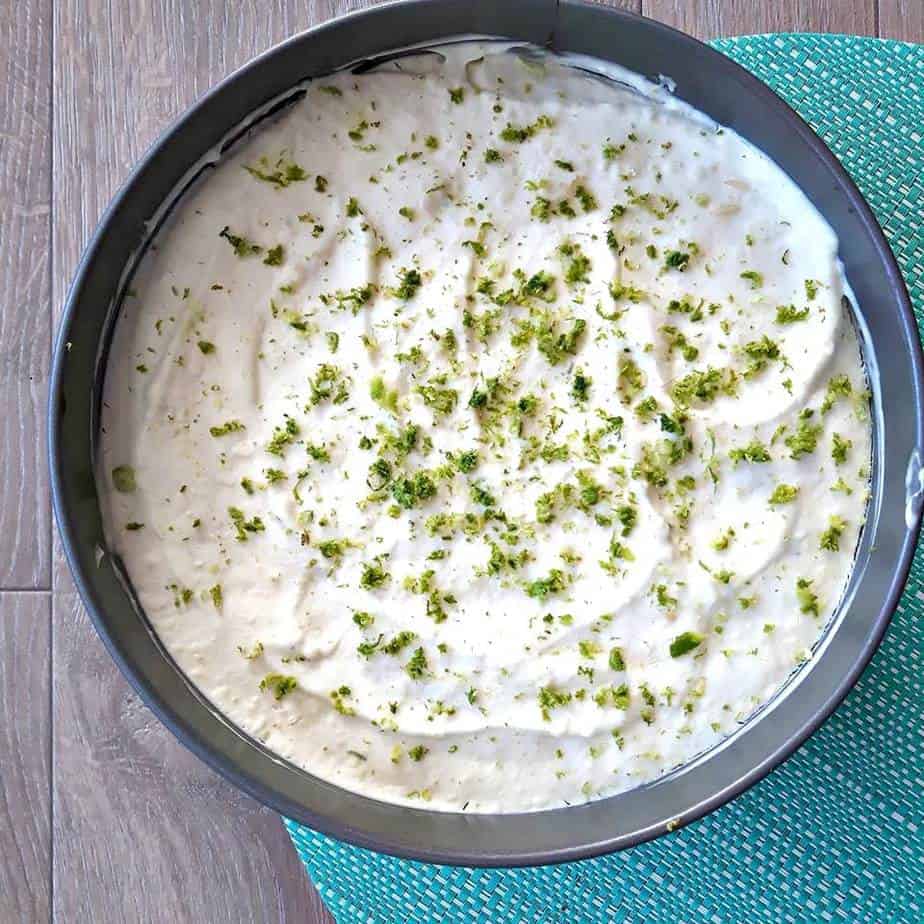 Sprinkle the crushed Pistachios around the cheesecake rim like this, add as much as you want.
Soley remove it from the cheesecake pan, keeping the metal bottom on for serving to help keep it intact.
That's all folks, what a fresh and creamy cheesecake, enjoy!
Notes: You can skip the pistachio topping and add whip cream if desired. This cheesecake typically will make 12 slices, ruffly this thin. If you want thicker this will easily serve 8.
If you love Key Lime flavors, then be sure to try my other key lime inspired recipes!
I am so thrilled you are reading one of my recipes, if you made this recipe i'd love to hear about it! Thank you very much for reading and until next time see ya in the kitchen. Don't want to miss a recipe? Sign up for our NEWSLETTER delivered right to your inbox!
Key Lime Cheesecake (NO BAKE)
The addition of Pistachios creates a lovely taste and is a festive addition for the holidays!
Ingredients
CRUST
3 tbsp Brown Sugar
2 cups Graham cracker crumbs
6 tbsp Butter melted
FILLING
2 8oz packages Cream Cheese
1 Condensed milk
1/2 cup Sour Cream, Full fat
8 or 3/4 cup Limes
1 tsp Pure vanilla extract
TOPPING
1 lime Lime Zest
1/2 cup crushed Pistachios
Instructions
CRUST: Start by making your base/crust, in a large bowl place your crushed shortbread and graham cracker. You can crush them in your food processor or in a large zip lock bag. Then add the melted butter and mix this together with a spoon and then use your hands to press it together so it sticks. Lightly oil your cheesecake pan and then place your graham cracker crust inside. Press firmly down to create your crust.
MAKING THE NO-BAKE GRAHAM CRACKER CRUST: Chill pie crust for at 30 minutes prior to filling. Prior to serving, rub the outside and bottom of the cheesecake pan with a wringed out hot cloth this helps to release the pan from the crust. Baked graham crust: Preheat oven to 325°. Bake crust for 10 minutes, cool completely before filling.
BAKING THE GRAHAM CRUST: Preheat oven to 325°. Bake crust for 10 minutes, cool completely before filling.
FILLING: Add 2 packages of cream cheese to a large bowl and with your hand held blender whisk till creamy but do not over whisk. Then in another large bowl add in the condensed milk and sour cream, along with the vanilla extract and blend till creamy.
Last add in 3/4 cup of squeezed limes, 8 limes to be exact. The juice of 10 limes = 1 cup. Blend them in till combined, be careful to not over blend. Fold in your cream cheese whipping a few more times till blended.
Pour over your crust slowly and spread out then chill in the freezer anywhere from 6 to 24 hours.
TOPPING: Start by removing the pistachios from the shells, and place on a large cutting board. With the side of a large knife crush the pistachios.
Once your cheesecake has chilled fully, remove from the freezer.
Leave the cheesecake in the cheesecake pan and add the zest from one lime overtop. I like to use the zest from the limes that where squeezed prior.
Remove the cheesecake from the pan while still partially frozen and carefully place on a serving tray with the bottom metal part still attached to the cake.
Once it's on the serving tray, sprinkle around the outer edge with the crushed pistachios.
Set cheesecake on the counter for another 20 minutes and then slice and serve. Enjoy!
Nutrition Information:
Yield:

12
Serving Size:

1
Amount Per Serving:
Calories:

349
Total Fat:

25g
Saturated Fat:

13g
Trans Fat:

0g
Unsaturated Fat:

9g
Cholesterol:

60mg
Sodium:

261mg
Carbohydrates:

32g
Fiber:

4g
Sugar:

12g
Protein:

6g