Directions
This Healthy Seafood Soup is something I came up with most recently. I never followed any recipes, rather just made it out of a craving for something. "Different".
Today, I'm sharing with you my recipe for this delicious "Seafood Soup" that is out of this World tasty!
HOW TO MAKE SEAFOOD SOUP?
My soup utilizes fresh shrimp, bok choy and mushrooms. Along with canned clams and chicken stock that helps to add depth of flavor along with red thai curry paste, soya and garlic/ginger spices.
You can always use spinach instead instead of the boy choy if desired!
If you love seafood you're going to love this soup!
The brown pieces in this soup. That you see in the picture above. Is not meat, rather Chinese shiitake mushrooms. You can also omit those for cremini if you'd prefer.
I made this soup now three times since, and trust me. This recipe is a keeper!
It is not like any seafood soup recipe out their. As there is no cream, milk or sugar added. Rather it utilized natural flavors and has depths of flavor that make it a true seafood soup.
I used just a hint of "Red Thai Curry Paste" to heat it up and add extra flavor. You can always use "Red Pepper Flakes " instead however the flavor will be a bit different.
My recipe calls for "3 cans of clams". However if your wanting to use fresh whole clams you can as well. Also you can use either "Red Thai Curry Paste" in this soup.
Also there's only one brand I would recommend and use, see the picture below. Or you can also use "Red Pepper flakes" instead if you'd like. I much prefer the paste as it adds just that extra layer of flavor.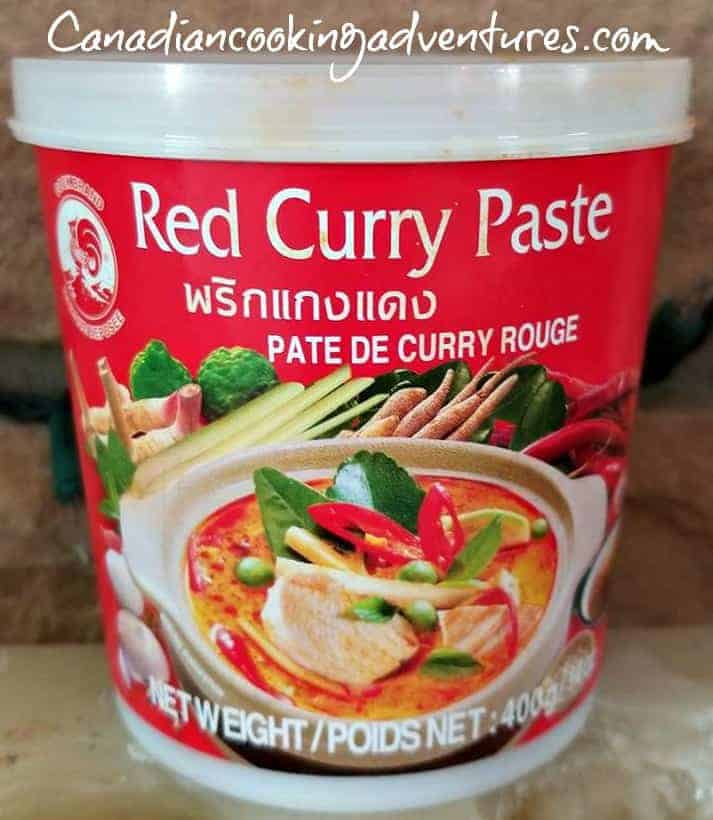 Also I used Thai Rice Noodles, see picture below for the brand I prefer.
Now, this may seem like an expensive soup to make. But in all honesty, one bowl costs under $5 dollars and that is because this recipe makes a fairly large pot of soup.
Enough to feed 5 or more people, or makes for a few bowls that can be enjoyed over the course of two days.
So if your craving a soup to warm you up, but also want a healthy meal. Then this Seafood soup is sure to hit the spot!
If you are planning to enjoy this soup over a couple of days, then your in for a treat. Because the flavors only develop further.
If you loved this soup? you will also love the following recipes below.
Parmesan Tortellini Kale Sausage Soup
Creamy Spinach Sausage Gnocchi
Best Chicken Tortellini Soup
I am so thrilled you are reading one of my recipes, if you made this recipe i'd love to hear about it! Thank you very much for reading and until next time see ya in the kitchen. Don't want to miss a recipe? Sign up for our NEWSLETTER delivered right to your inbox every Month!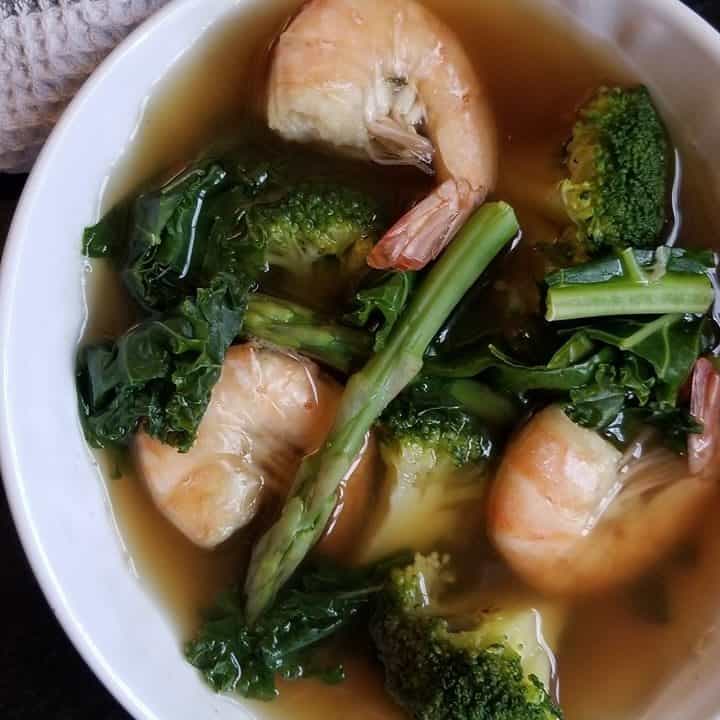 Asian Shrimp Soup
Yield: 5

Cook Time: 20 minutes

Total Time: 20 minutes

A flavorful clear broth soup to warm you up
Ingredients
15 large Shrimp
7 cups of chicken bone broth stock
5 cups chopped Kale
2 cup of chopped asparagus
2 cups of chopped broccoli
2 tbsp soya sauce
salt and pepper to taste
Instructions
Start by adding the stock to the pot
Simmer on medium heat for 3 minutes before adding in chopped vegetables.
Simmer till the broccoli is cooked yet crispy.
Toss in the shrimp whole and simmer till pink.
Turn down the heat to low and add in the soya sauce.
Nutrition Information:
Yield: 5 Serving Size: 1
Amount Per Serving: Calories: 172Total Fat: 2gSaturated Fat: 0gTrans Fat: 0gUnsaturated Fat: 1gCholesterol: 40mgSodium: 1059mgCarbohydrates: 18gFiber: 6gSugar: 5gProtein: 24g

© CanadianCookingAdventures. All images and content are COPYRIGHT PROTECTED. Please do not use any images without prior permission. Please do not republish this recipe. If you want to reference this recipe, link directly back to this post. Thank you, Jacqueline