Ingredients
250 grams

Greek Plain Yogurt

1 tbsp

Dried fenugreek leaves
Directions
There is nothing like fresh naan bread to go with your Indian dishes. It's soft and fluffy and so delicious! This is my favorite way to make NAAN bread by far, it's defiantly a keeper. My guests rave over it, and my partner says it's even better than any of those we have tried in our favorite Indian Restaurants, so I must be on to something eh? It's not only technique that makes this naan so good, it's the ingredients "fresh yogurt, ghee and honey that make this naan something extra special. Giving it a taste/texture that your sure to love, not to mention the addition of 'kasuri methi' which is dry fenugreek leaf. However if you can't get your hands on dried fenugreek leaves then you can sbsiture it with cilantro. Naan bread is best made in batches, that way if you have any leftovers however (i have no idea why you would). It can be stored easily it in the freezer for another time all you have to do is heat it p prior and it's good as the day you made it. This recipe makes roughly 8 large pieces or 10 smaller pieces of bread, depending on how thin or thick you like to make your Naan will determine that. I encourage you to try both ways, some people like their Naan thicker while others prefer the thinner kind. Either way it's just as delicious, and goes so well alongside many types of West Asian, Central Asia and South Asian cuisines.
Kitchen Essentials:
To make the Naan Bread:
In a large bowl mix together warm water and yeast till dissolved, roughly 10 minutes.
Next add in the liquid honey and stir till dissolved.
In another large bowl add your flour, greek yogurt, sugar and salt
Knead it all together with your hands in the bowl and once combined, remove from the bowl and shaped into a large ball.
Oil the same bowl and place the big ball of dough back inside and cover it with a damp towel for 1 hour till your dough has doubled in size.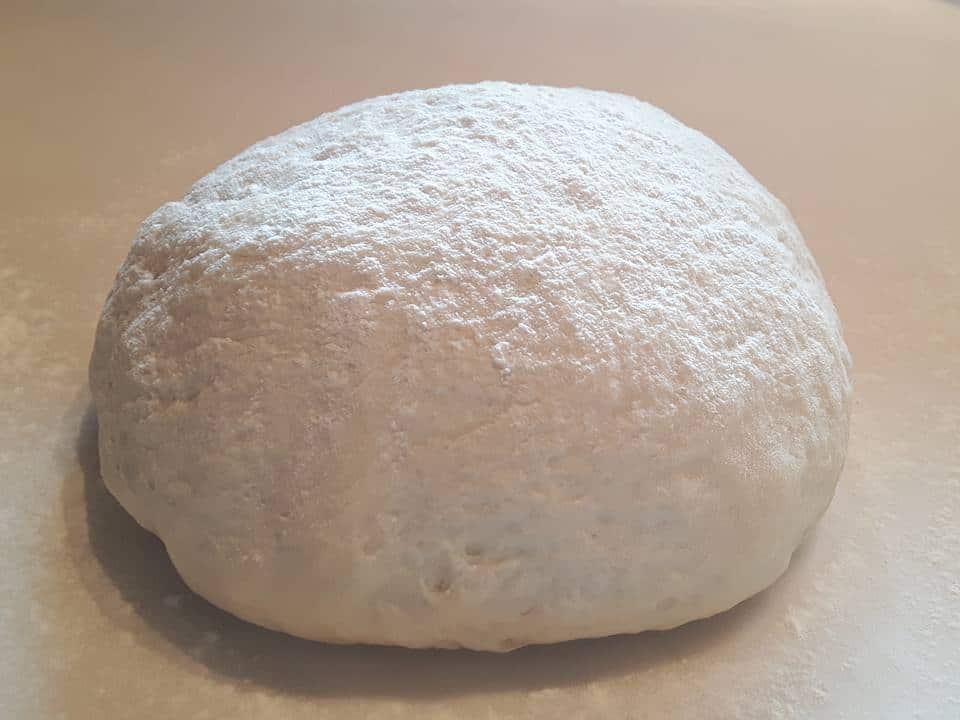 Cover your dough and allow it to rise, then make 6-8 balls and roll each one out individually to make your naan bread. 
Cooking the Naan Bread:
In a small bowl place your melted Ghee or Butter and set aside.
Once the dough has doubled in size, flour your counter and place the dough on top. Separate the dough with a pastry cutter into 6 to 8 pieces.
Roll each into a ball with your hands, then place on the floured surface and use a rolling pin, roll out the dough into individual circles.
Heat a your skillet over medium – heat and with a basting brush, season the skillet with some ghee/butter.
One by one, roll your dough out and place onto the skillet individually.
You will see tiny bubbles form on top the dough (see picture above) roughly around 1-2 minutes as the dough begins to take on a light brown color underneath, this is when you will want to flip the dough over. However before flipping the dough brush with ghee/butter and add fenugreek leaves, then flip.
Cook on the other side for 1 minute or until golden and transfer to your serving plate and cover with a towel to keep warm.
REPEAT steps 3-5 till all pieces are cooked.
Serve warm.
Kasoori Methi = Dried Fenugreek Leaves. Sprinkle some on your NAAN for that extra flavor
Here are some recipes below that go great with this naan bread, also check out my curry page for more recipes that go great with naan. 
Leftover Naan: Double up the recipe if you want to freeze some for later. Naan Bread can be frozen easily by placing in a zip lock bag. Just place parchment paper in-between each one. This will sea in the freshness and allow you to remove each piece, one at a time as needed. (see pictures below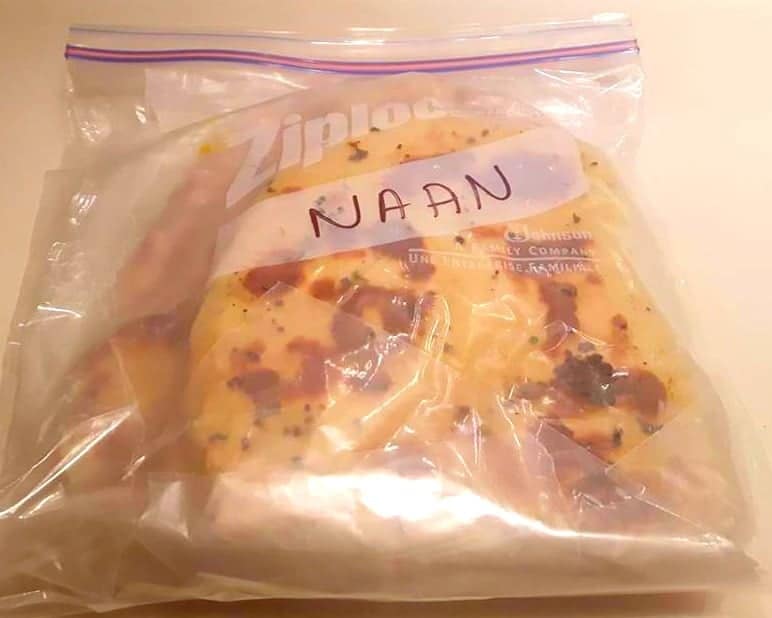 You can freeze for another time, simply heat up in the microwave 
I'm thrilled you are reading one of my recipes, if you made this recipe id love to hear about it! You can post a review, picture below or via Instagram and by doing so you will be automatically entered into our seasonal CONTEST to win one of our great prizes. Winner will be notified via email within a week after the contest closes. Thank you and until next time see ya in the kitchen. Don't want to miss a recipe? Sign up for our NEWSLETTER delivered right to your inbox!