Ingredients
2 cups roasted and peeled green chilies, obtained from 18 -20 Anaheim, California or poblano chiles

Chopped Green Chilies

1 tbsp and more to taste

Salt & Pepper

Serve with

Warm flour or corn tortillas
Directions
Who likes Mexican food? This simple yet Authentic Green Chile Stew (Chili Verde) is amazing!! Not to mention is a great meal to prepare for a large crowd, because it's inexpensive and can go a long way. My partner and I like to go down to the States at least once a year for vacation, while there we are sure to make a stop at one of our favorite Mexican restaurants and this dish is something we always order. 
Green Chile Verde, is made with pork shoulder or loin and is slow cooked in a green chile sauce. There is a process to making authentic chile verde, and that starts with roasting tomatillos, along with garlic, jalapenos and onions in the oven. However this recipe is going to make all that so easy for you. What are Tomatillos you ask? Well they are little green looking tomatoes, known as the Mexican husk tomato, but they are hard to find here in Canada. We even send Bubba out to  locate these rare tomatillos for this recipe, but he failed to come back with any local ones. Rather he did come back with a bottle of "salsa verde" which has the tomatillos in it, along with the cooked jalapenos, onions and garlic that are needing in this recipe. So we encourage you to use this pre-made salsa in the dish, which tastes just the same and will also save you allot of time in the kitchen. However if you want to make the salsa verde from scratch, here is a great recipe for "salsa verde" here. This dish is really not that difficult to make, and the nice thing is it can feed a large crowd or makes great leftovers. This is definitely one of our favorite homemade Mexican dishes, I hope you like it as much as we do. Also note this dish can be done in your pressure cooker, slow cooker or on the stove top. Today I am using the stove top method, since I will be in the kitchen most the day. However if your in a hurry, do it in the pressure cooker and then you can have this on the table in under one hour. Serve over a bed of rice or for a more traditional meal, serve it alongside some warm tortillas. Buen provecho!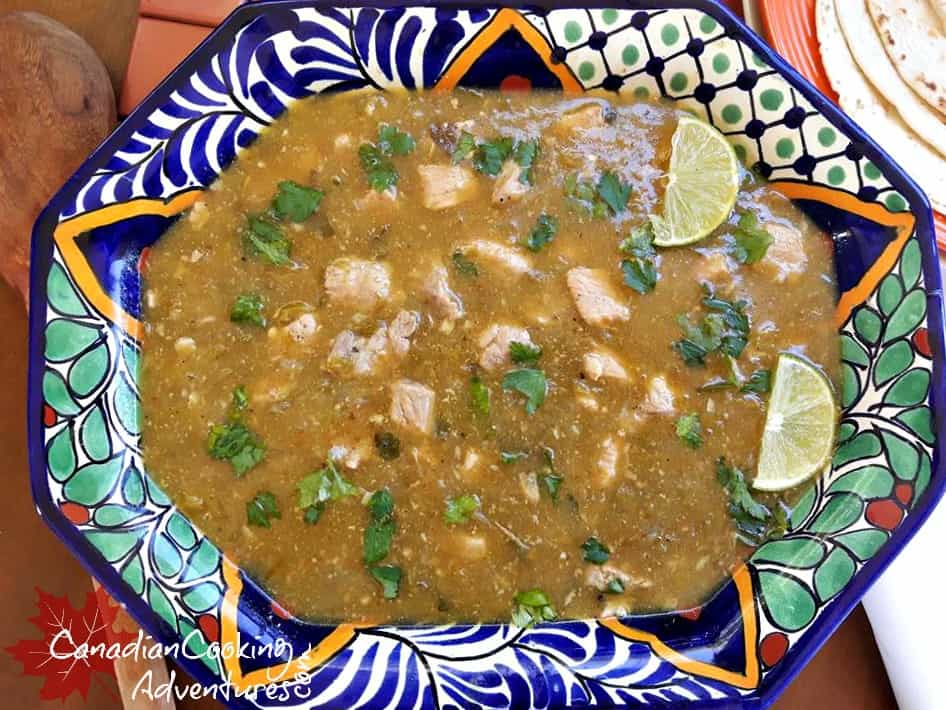 Hunter recommends using premade Tomatillo sauce, it will save you a ton of time.
To make the Green Chili:
Start by cubing 2 pounds of pork, and then marinate it for 30 minutes in oil, and cumin.
Heat 1 tbsp of oil over medium heat, add cubed pork and stir fry for 10 minutes till browned. Season with salt and pepper then set aside once browned.
Next add in your garlic and jalapenos and  stir for 1 minute, adding in your frozen or fresh green chilies next.
Then add in "Salsa Verde" sauce.
In a small cup, place your flour along with 1/2 cup of "chicken stock" string to mix everything together. Then pour into your pot along with your garlic, jalapenos, chilies and salsa.
Add a little more salt, all your cilantro, and oregano to taste.
Cooking Steps:
Stove Top: 2 hours on medium – low heat uncovered. You may need to add in more stock as you go.
Pressure Cooker: According to your setting for pork, I set mine at 15 minutes.
Slow Cooker: High for 6-8 hours.
Note: Serve with warm flour or corn tortillas or over a bed of rice if desired.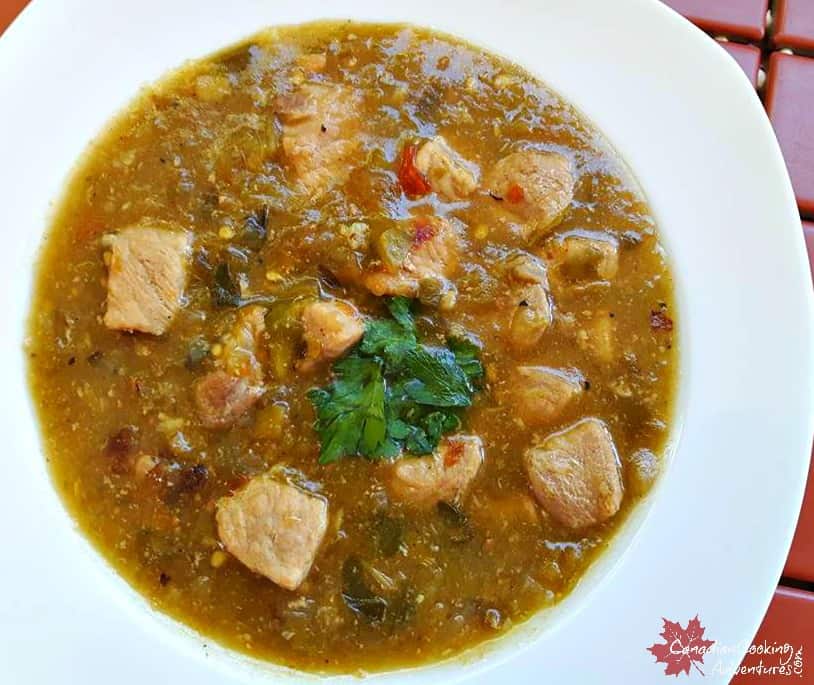 I am so thrilled you are reading one of my recipes, if you made this recipe i'd love to hear about it! You can post a review, picture below or via Instagram and let me know how it turned out. And by doing so you will be automatically entered into our seasonal CONTEST to win one of our great prizes. Winner will be notified via email within a week after the contest closes. Thank you very much for reading and until next time see ya in the kitchen. Don't want to miss a recipe? Sign up for our NEWSLETTER delivered right to your inbox every Month!