Ingredients
Crust

1 1/2 cups

Graham cracker crumbs

Filling

1 can

Can of condensed milk

1 tsp

Pure vanilla extract

Pumpkin Spices

Topping
Directions
It doesn't get any easy or more delicious than this and what better way to celebrate fall in the kitchen than with a Frozen Spiced Pumpkin Cheesecake. This Cheesecake will have you and those who get a chance to have a slice wanting more, nice thing is this 8″ inch cake can serve 12 people.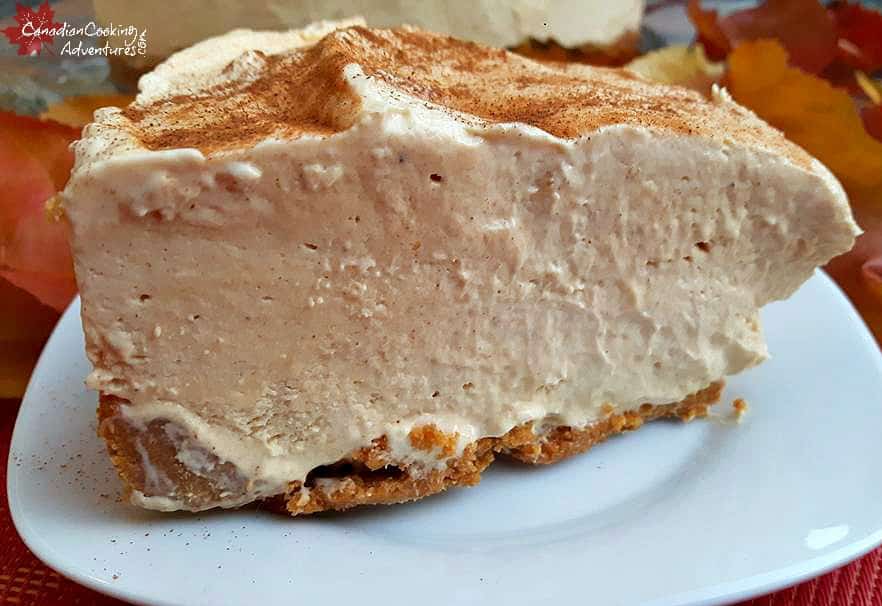 Since this is a no bake cake, you are going to want to prepare it the day ahead, then allow it to set in the freezer for at least 6 hours prior to serving. Hunter, says you can serve it with a dollop of whip cream on the top prior to serving, she really likes that.
However the rest of the Canadian Cooking Adventures team thinks it's best with just a sprinkle of cinnamon on top, so we will leave that up to you.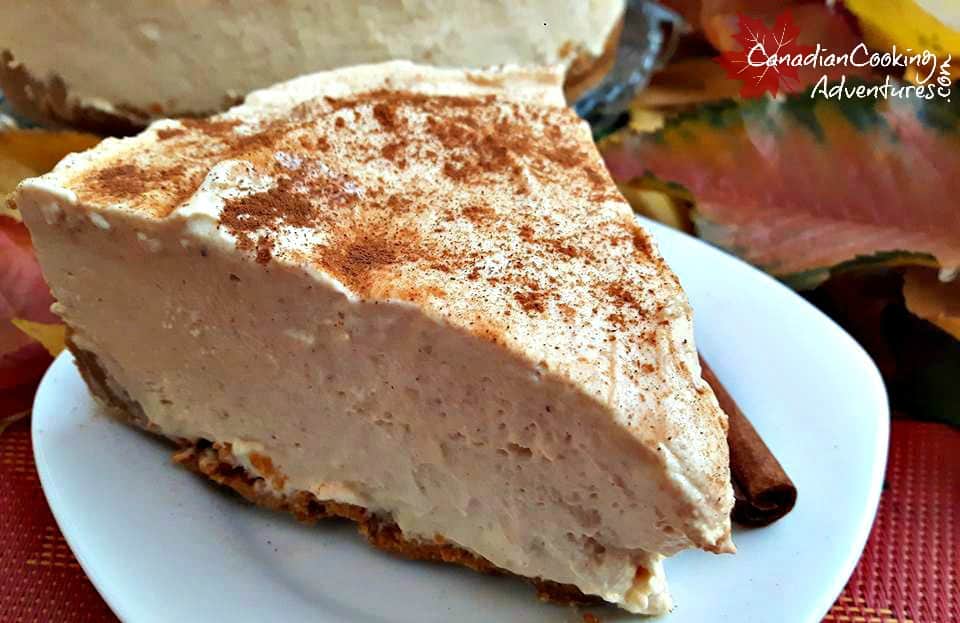 This is the most creamy and tasty cheesecake, perfect for the holidays!
Also be sure not to skimp on the "pumpkin puree" not "filling", big difference here. Because it really makes this cake so creamy and perfect. For this recipe, I used 1 1/2 cups of graham cracker crumbs, because I really like a thin crust.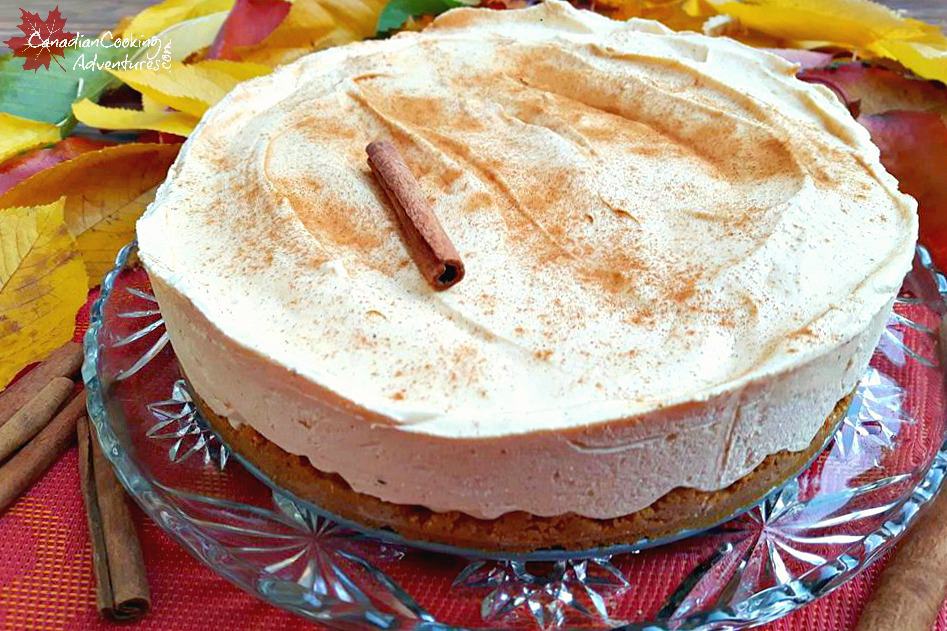 If you prefer a thicker crust then use 2 cups and that will be perfect. This frozen spiced pumpkin cheesecake is just one of those recipes that everyone should have in their freezer around the holiday season. Enjoy!
Note: You can put a dollop of whipped cream on top. Place your cake back in the freezer or it will melt,this cheesecake is best chilled frozen.
Inspired by: Chelsea's Messy Apron ~ Frozen Pumpkin Pie Cheesecake
I am so thrilled you are reading one of my recipes, if you made this recipe i'd love to hear about it! You can post a review, picture below or via Instagram and let me know how it turned out. And by doing so you will be automatically entered into our seasonal CONTEST to win one of our great prizes. Winner will be notified via email within a week after the contest closes. Thank you very much for reading and until next time see ya in the kitchen. Don't want to miss a recipe? Sign up for our NEWSLETTER delivered right to your inbox!
PIN IT FOR LATER
Steps
To make the Frozen Spiced Pumpkin Cheesecake Crust:

Start by making your base/crust, in a large bowl place your graham crackers, brown sugar and melted butter. Mix this together with a spoon and then use your hands to press it together so it sticks. Lightly oil your cheesecake pan and then place your graham cracker crust inside. Press firmly down to create your crust.

No-bake graham cracker crust:

Chill pie crust for at 30 minutes prior to filling. Prior to serving, rub the outside and bottom of the cheesecake pan with a wringed out hot cloth this helps to release the pan from the crust.
Baked graham crust: Preheat oven to 325°. Bake crust for 10 minutes, cool completely before filling.

Add 2 packages of cream cheese to a large bowl and with your hand held blender whisk in a can of condensed milk, whipped cream and vanilla extract. Blend till smooth, be careful to not over blend.
Pour over your crust slowly then chill in the freezer anywhere from 6 to 24 hours.

Finishing the cheesecake: