Ingredients
3 Sausages

Farmers Sausage

3 cups

Medium Cheddar Cheese

DOUGH (SEE RECIPE IN NOTES)

Sauce (see recipe above)
Directions
I call this recipe "Farmer's Sausage Pizza" because its made with Fresh Farmers Sausage, but also has some fresh cheese and some baby tomatoes that I pulled from my garden.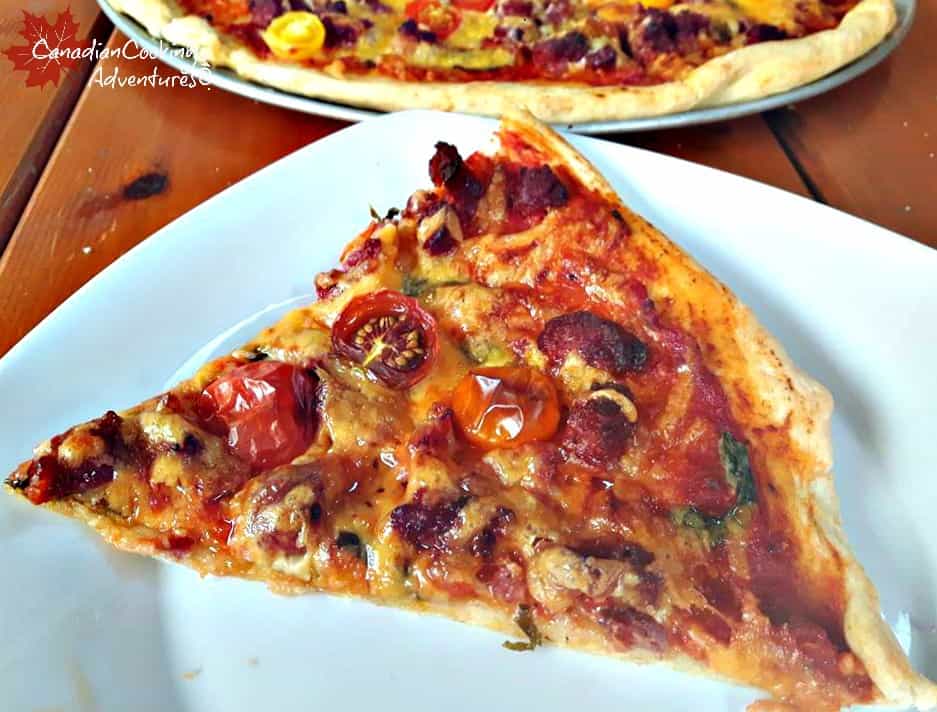 Now don't just take my word for it but this pizza is something special, unless perhaps your in NYC and you stumble upon one of those great pizza places then maybe we will have competition.
I started to make homemade pizza a few years back, because I was just so tired of being disappointed when it came to ordering it from takeout. The sauce was always wrong or the toppings where few, the dough was undercooked or over and one of us always had a complaint. Sounds familiar?
Once you learn to make homemade pizza yourself you will never go back to ordering it or settling for that plain old box stuff either. Makes a large 14 inch thin crust pizza or a medium 12 inch, wanting to feed more people? Then just double the recipe up and cut the dough in half to make more pizza's.
STEP 1 & 2: First make sure you have the DOUGH and SAUCE part figured out. Either make both from scratch (recipes provided below) OR buy them pre-made.
Note: Do you like some heat to your pizza? Simply sprinkle some hot red chili peppers over the sauce. Cook on a pizza pan to ensure even cooking, if you don't have cook your pizza on the bottom rack. Also you can double or triple up the recipe ingredients, and freeze the dough for use within the month. And make sure don't forget the sugar, the yeast feeds off it and that allows it to rise properly.
Bubba impatiently waiting for his first slice!
I am so thrilled you are reading one of my recipes, if you made this recipe i'd love to hear about it! You can post a review, picture below or via Instagram and let me know how it turned out. And by doing so you will be automatically entered into our seasonal CONTEST to win one of our great prizes. Winner will be notified via email within a week after the contest closes. Thank you very much for reading and until next time see ya in the kitchen. Don't want to miss a recipe? Sign up for our NEWSLETTER delivered right to your inbox!
Farmers Sausage with Basil and Baby Tomatoes Pizza
Ingredients
3 Sausages Farmers Sausage
1 cup Baby tomatoes
3 cups Medium Cheddar Cheese
8 leaves Fresh Basil
1/2 cup Pizza sauce
Instructions
Step 1 and 2: Start by making your Pizza Dough, if your following my recipe above. I suggest giving yourself 2 hours in advance, because you will want that dough to rise properly. Then use your favorite pizza sauce, or see my recipe above.
STEP 3: Cook the Farmers Sausage. In a non stick skillet, cook your cut up farmers sausage and slowly break it into crumbs. Set aside for later.
STEP 4: Pulling it all together. Once your dough has risen, sprinkle your pizza pan with Semolina to avoid it from sticking to the pan or you can use olive oil in replace. Using your hands, start to flatten your dough and then press your fingers around the outside to lightly form the crust shape on the outside.
Life the dough and turn it sideways some and allow it to stretch, turning it around in a circle as it stretches from side to side. Now top your pizza, start with your tomato paste then fresh basil leaves, crumbled farmers sausage, cheese and then sliced baby tomatoes.
Preheat your oven to 425 degrees and bake for 15 minutes, or till it looks done. The time will depend on the thickness of the dough and your oven.
PIN IT FOR LATER