Ingredients
Sauce

400 ml

Canned Pizza Sauce

VEGETABLE

1 small or medium

Green Zucchini

SPICES

OTHER

4.5 -5 oz

Fresh Mozzarella cheese
Directions
This Easy Pizza Ratatouille with Mozzarella Cheese is so good you won't believe it's Vegetarian. I just love Ratatouille, it's fresh, healthy and so good for you. Not to mention very pretty, just look at the rainbow of colors.
Made with eggplant, zucchini, tomatoes, and mozzarella cheese it doesn't get any fresher than this. Prepared with summer fresh vegetables and a good quality can of tomato based pizza sauce. Your sure to impress anyone when serving this dish!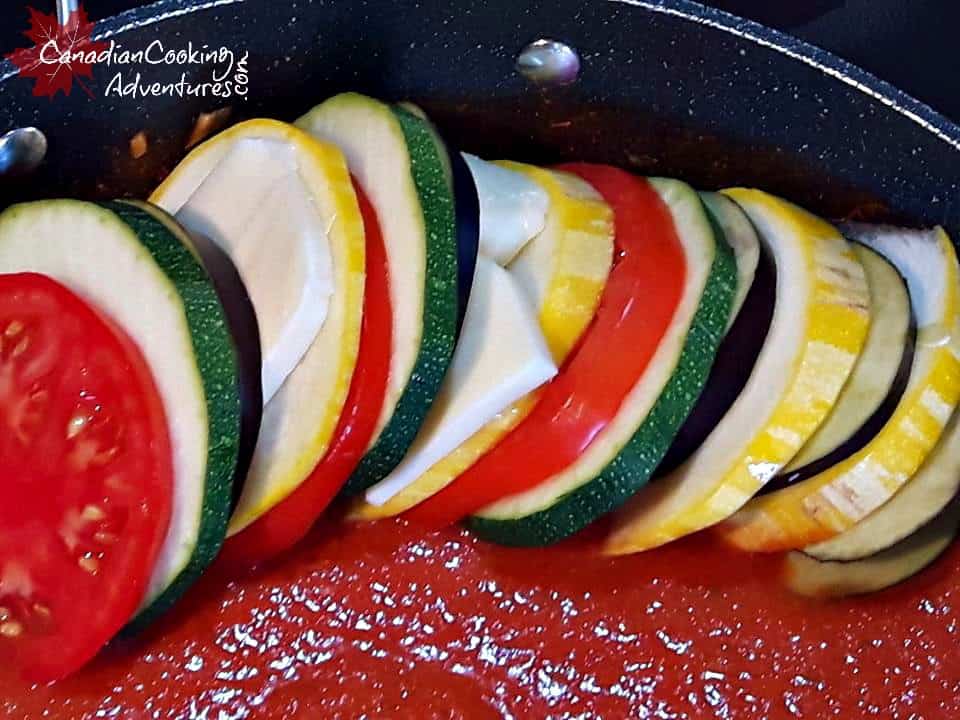 There are many recipes out there for this famous french dish called "Ratatouille", and plenty different ways to preparing it. Traditional Ratatouille is made without cheese, however I like to add Mozzarella to mine, because it really enhances the recipe and makes it taste more like a pizza without the added carbs.
Also cooking it for over 2 hours sure helps to bring out all the vegetables flavors which happens through caramelization. This recipe is sure to be a family favorite, and is gluten free.  I hope you like my version of this famous dish. "Bone Appetite"!
Tomato, Green Zucchini, Yellow Zucchini, Mozzarella Cheese, Eggplant
Carb free Pizza Ratatouille 
I am so thrilled you are reading one of my recipes, if you made this recipe i'd love to hear about it! You can post a review, picture below or via Instagram and let me know how it turned out. And by doing so you will be automatically entered into our seasonal CONTEST to win one of our great prizes. Winner will be notified via email within a week after the contest closes. Thank you very much for reading and until next time see ya in the kitchen. Don't want to miss a recipe? Sign up for our NEWSLETTER delivered right to your inbox every Month!
PIN IT FOR LATER
Steps
To make the Ratatouille:

In a large pot, heat olive oil over medium heat and add in your chopped onion. Sauté until onions are transparent. Put your diced red pepper, fresh thyme, fresh basil, red pepper flakes, garlic pizza sauce and the cooked onions into your food processor and blend till smooth. Add your mixture back into the pot and cook on low heat stirring occasionally for 10 mins then turn off heat. Meanwhile slice your eggplant, green zucchini, yellow zucchini, and tomatoes as thick or thin as you like it.

Start with your green zucchini then tomato, eggplant, yellow zucchini, mozzeralla cheese and so forth.
Sprinkle with a bit more salt and pepper, and drizzle olive oil over everything along with the red wine vinegar and a few basil leaves. Bake at 350 f covered for 2 hours so the vegetables can release there natural flavors.