Directions
This Easy Meatball Stroganoff can be pulled off in less than 30 minutes!
I kid you not. But your going to want to pull out your "air fryer" to brown the meatballs.
This will also save you a ton of time on this dish.
However you can away brown the meatballs in the oven, just keep in mind then that this dish will take a bit longer.
I have the BEST Air Fryer Meatball recipe for you right here! AIR FRYER MEATBALL RECIPES
I also added some frozen peas to this dish, feel free to omit them if desired. But i promise they add a pop to each bite and work so well in this recipe.
This dish is the ultimate comfort food and typically are served overtop a bed of large egg noodles, however you can serve them over mash potatoes as well if desired.
WHAT'S IN MEATBALL STROGANOFF
Meatball stroganoff tends to be made with hamburger for the meatballs, mushroom soup and sour cream for the sauce and seasonings.
Mine contains that and some dijon mustard along with frozen peas.
This quick and absolutely delicious meal has become favorite in my home this past year.
Give it a go! Your family will be definitely love that you did.
HOW TO MAKE MEATBALL STROGANOFF
Start by making the meatballs by following the institution in the recipe card (below)
Once they have been prepared place them in the oven or air fryer to brown/cook.
Meanwhile, as they are cooking.
Bring a medium pot of salted water to a boil and add in the egg noodles. Cook according to package instructions, strain and set aside.
Then in another large pot place the cans of mushroom soups into a large pot.
Along with the sour cream, beef stock, mustard, seasonings and frozen peas.
Bring to a high heat then turn down to low – medium heat and add in the cooked meatballs.
Simmer on a low heat for 10 minutes and serve over a bed of egg noodles.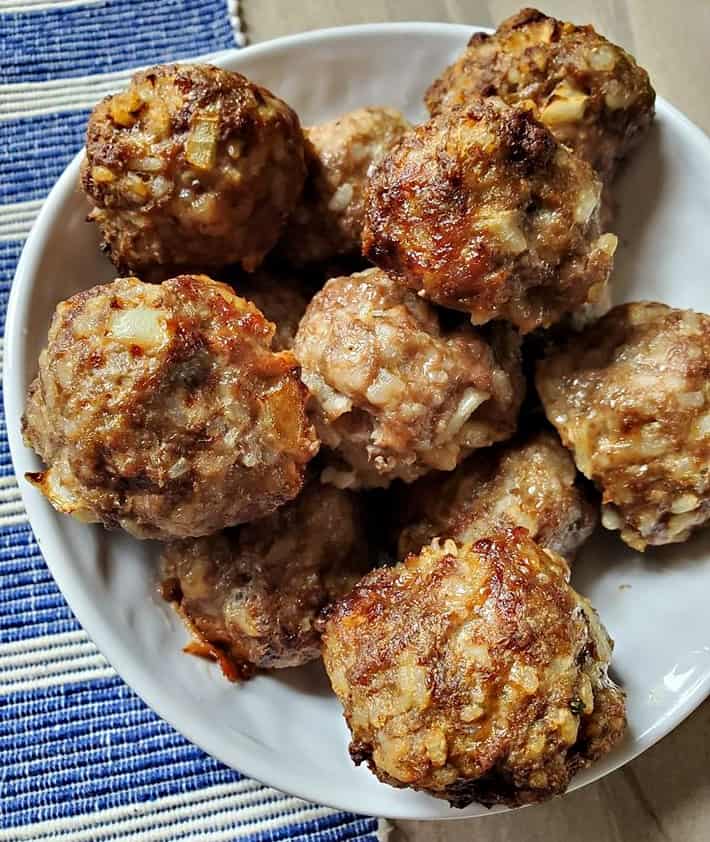 This recipe serves a family of four or you can use my easy to use recipe adjuster and make it for more people if you like.
Are you cooking for a larger crowd? or perhaps having to provide something for an upcoming potluck?
Comfort food at it's simplest!
I'm thrilled you are reading one of my recipes, if you made this recipe id love to hear about it! Thank you and until next time see ya in the kitchen. Don't want to miss a recipe? Sign up for our NEWSLETTER delivered right to your inbox!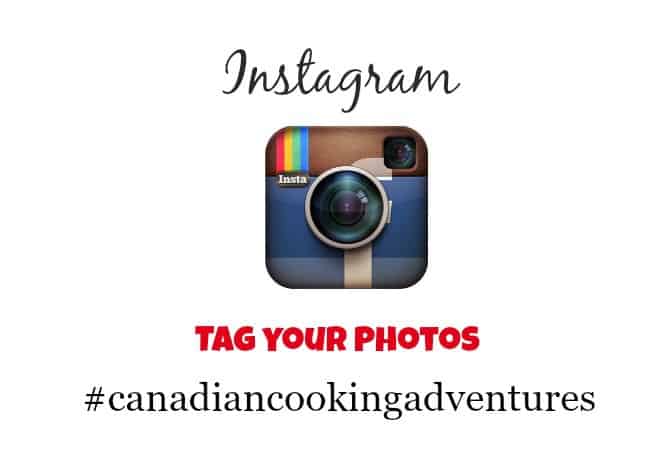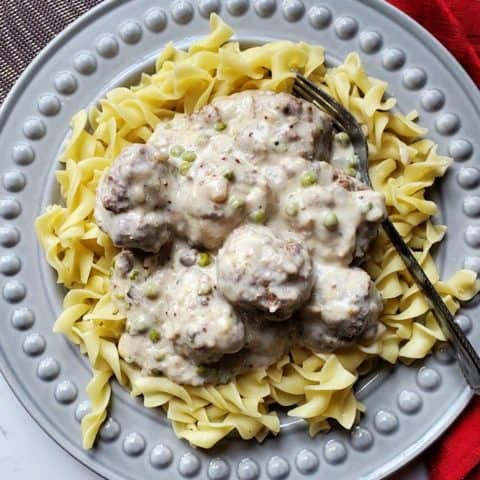 Easy Meatball Stroganoff
Ingredients
MEATBALLS
1 tsp of Olive Oil
1 lb Ground Beef
1 medium onion, chopped
1 egg lightly beaten
1/2 cup rice
1 tsp salt
1/2 tsp pepper
1 tsp garlic powder
1 tsp Worchestire sauce
SAUCE
2 cans mushroom soup
1 cup beef stock
1 tsp Dijon mustard
1/2 cup sour cream
1 pinch salt
1 pinch pepper
2 cups of frozen peas
1 package of egg noodles
Instructions
Start by cooking the white rice in a medium saucepan, drain and set aside.
Then in a large bowl add the hamburger, chopped onion, and cooked rice.
Mix all together with your hands, then add in the egg, worcestershire sauce and seasonings.
Next, grab 2 or 3 tbsp of the mixture into your hands to form a ball. Add the balls to a baking sheet and then once their all made.
Add 1 tsp of olive oil the air fryer along with the meatballs. Making sure they do not touch.
Air fry for roughly 20 minutes per batch or until golden brown.
Meanwhile, cook the pasta according to package institutions and then in another large pot add the mushroom soup, beef stock, sour cream, frozen peas, mustard and seasonings .
Simmer the sauce on low to medium heat with the cooked meatballs for 10 minutes.
Serve over the egg noodles.
Nutrition Information:
Yield:

3
Serving Size:

1
Amount Per Serving:
Calories:

1037
Total Fat:

58g
Saturated Fat:

20g
Trans Fat:

2g
Unsaturated Fat:

31g
Cholesterol:

261mg
Sodium:

3134mg
Carbohydrates:

64g
Fiber:

9g
Sugar:

13g
Protein:

64g