Ingredients
7 bags

Lipton Iced Tea Bags

8 tbsp

Agave nectar

or honey

3 cups

Dandelions

yellow parts
Directions
It's dandelion season again ??????? and that means my fridge is stocked UP with homemade Dandelion Iced Tea. I could not be more happier for spring, besides the allergy part "sniffle sniffle". It means a big old goodbye to those long cold winter days and hello to warmth and sunshine and the bees! Oh how I love the bees 🙂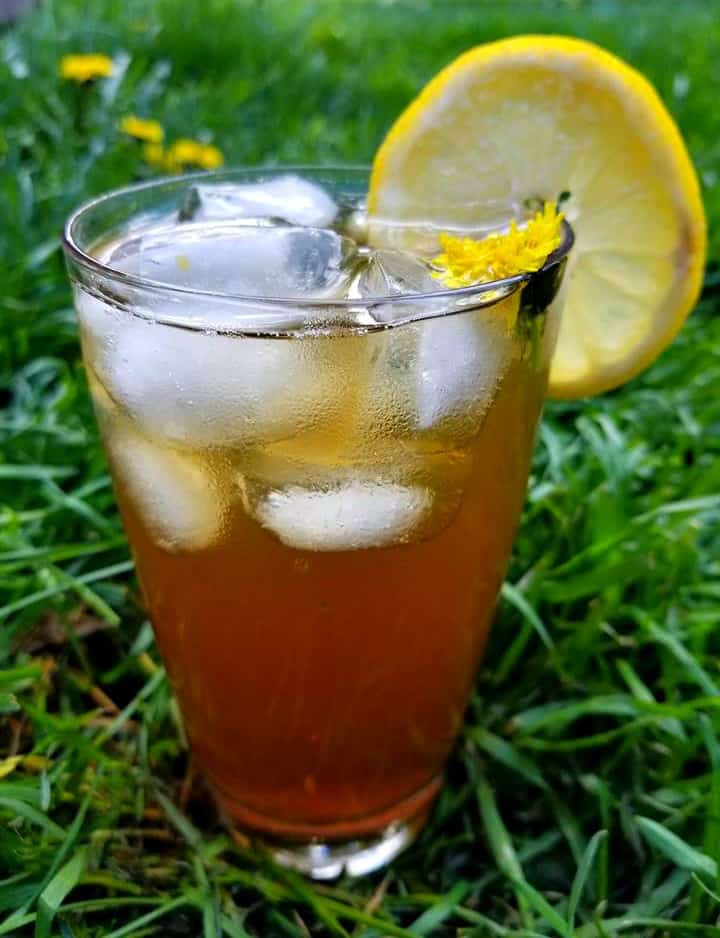 I used to buy dandelion tea at the store for it's healthy benefits of course. And now I make it myself at home. Why not it's free! And takes little to no effort at all. The only difference from making fresh dandelion tea to that which come from a tea bag is actually having to go outside and forge some in the lovely warm weather. What a shame, eh!
I truly believe more people would do this too if they knew how health this iced tea/tea was. But really it's no secret, dandelions have been known as a Superfood by the herbalists community for some time now.
And people have been using them in all sorts of recipes all the way across Europe since the early millennium.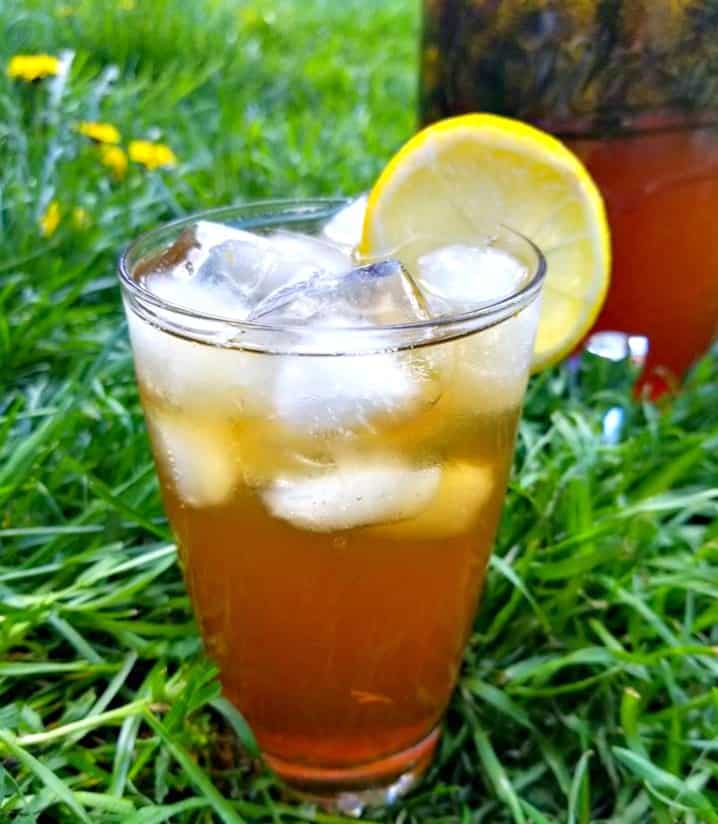 Did you know that dandelions are actually considered plants and are one of the top 4 most nutritious greens on the planet! Yes, "ON THE PLANET"!! And have been proven to be a lifeforce for the Bees, beetles and birds.
Actually if it wasn't for the bee's we would not have that natural honey or rather any natural food. For they pollinate almost everything we natural that we eat today!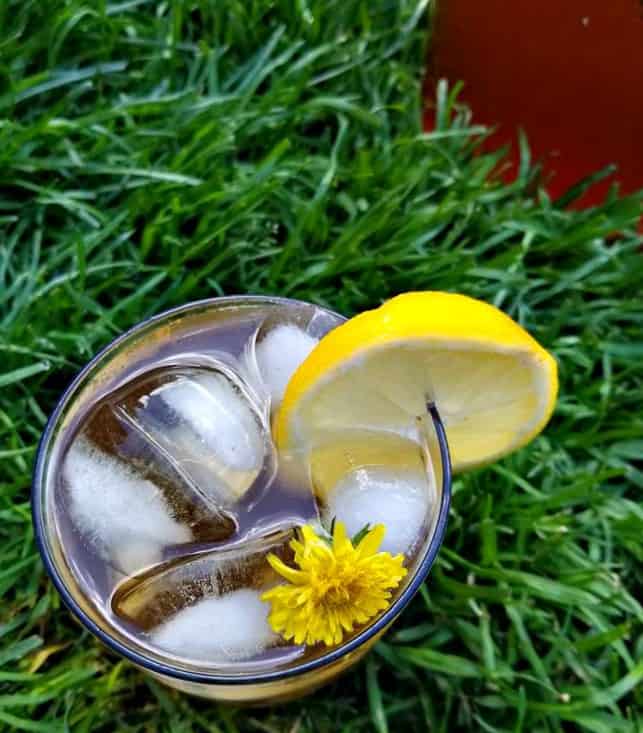 Without the bee's there is no us! So knowing all that would we still kill the dandelions?
Dandelions are a superfood and should be treated as such. Because they has the ability to detox the liver, skin and stomach and help you lose weight all at the same time.
Not only can the yellow parts be used to make many things such as this tea. The green stems and leaves can be chopped up and used to make salad or placed in a stir-fry and are known to have more vitamins A, C, K, Omega 6, iron, phosphorus, potassium, and calcium than spinach. So if your a green shake lover then why not try dandelion greens the next time!
Picture Source: Forging for Food
That is pretty much all I will need for this weeks batch of my favorite Dandelion Iced Tea!
See how the Dandelions float to the top of the Glass pitcher? Some will sink over the next few days but not enough to plug the spout. So leave them in there because the longer they soak the more nutrients you get.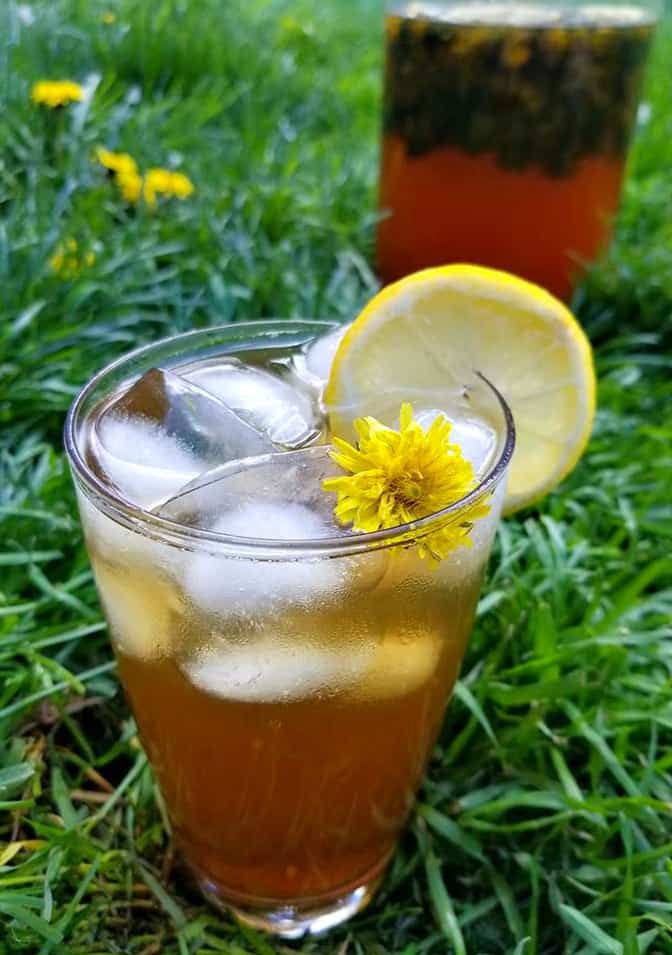 I will make this ice tea all summer long and do so by forging in my yard which is always full of dandelions. Of course I will give them a long good rinsing before making any tea, I do have dogs here.
However if you don't have a large yard then it's best to find a place where you are sure there has been no pesticides sprayed.
Doesn't that look so refreshing!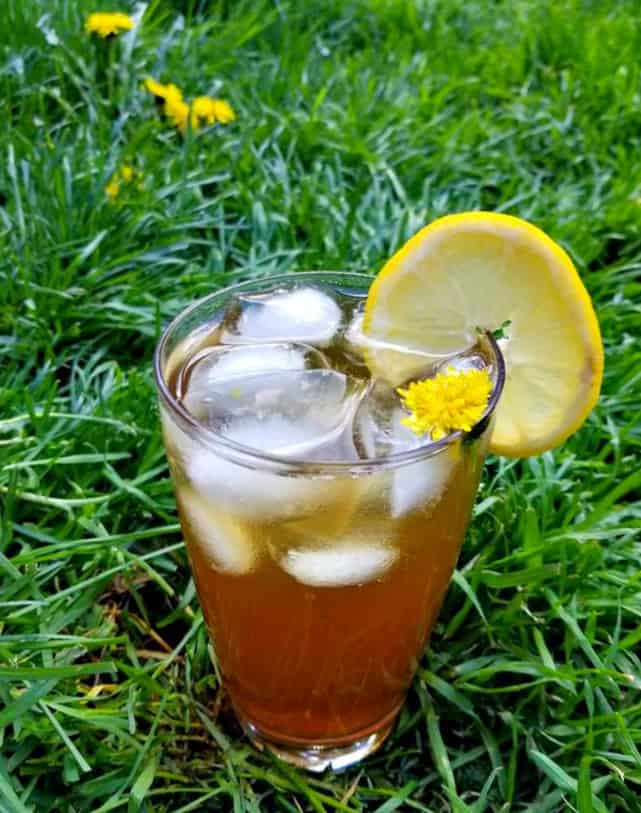 Preventing Cancer and Fighting Free Radicals all Summer Long!
Check out more health benefits here: "Dandelions" 
Save the planet leave the Dandelions pesticide free: Let dandelions grow. Bees, beetles and birds need them
If you think saving the Dandelions are important too.  
Feel free to share my Quote!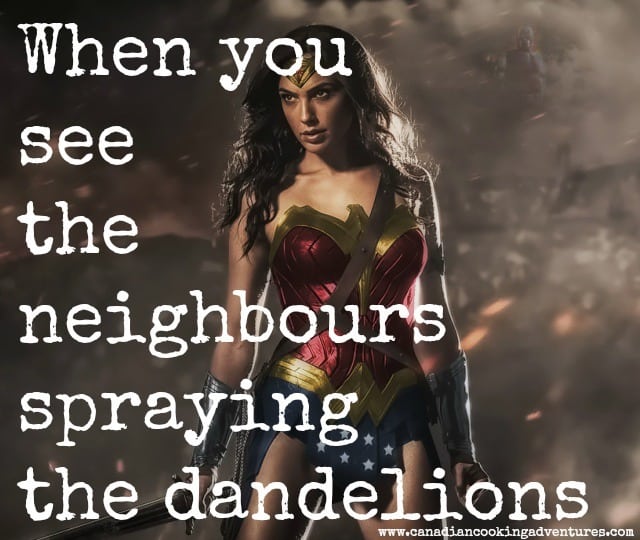 I am so thrilled you are reading one of my recipes, if you made this recipe i'd love to hear about it! You can post a review, picture below or via Instagram and let me know how it turned out. And by doing so you will be automatically entered into our seasonal CONTEST to win one of our great prizes. Winner will be notified via email within a week after the contest closes. Thank you very much for reading and until next time see ya in the kitchen. Don't want to miss a recipe? Sign up for our NEWSLETTER delivered right to your inbox!
PIN IT FOR LATER
Steps
| | |
| --- | --- |
| | |
| | Next take some iced cold water and then bring it to a boil add in your tea bags and turn the heat off. Allow the tea bags to soak along with the washed dandelion tops for at least 30 minutes before pouring the hot water into a shatter proof bowl. Stir in your sweetener of choice, I like to use agave nectar. And allow everything to cool down completely. |
| | Once the Dandelion tea has cooled down completely. Pour it into a large jug and place in the fridge to enjoy over the next few days. Top each glass with a bunch of ice cubes and a wedge of lemon. Enjoy! |