Ingredients
Crust

1/2 cup

Panko Bread Crumbs

1 package

Kraft Extra Crispy Shake N Bake

Serve
Directions
I just love these crispy herb crusted salmon fillets, not only are they super delicious there also super healthy for you and easy to make. That is why I love home cooking, because you can make healthy home cooked meals from scratch such as this tasty fish and feel satisfied knowing exactly what is going into your meal. I used to occasional buy those pre boxed fish, you know what I'm talking about? Those frozen battered kinds in the freezer section at every grocery store. It wasn't because I was lazy, it was because I did not have the confidence in myself to prepare fish from scratch. I just was not raised cooking fish, so I had to teach myself. Well all that has changed a few years back, when I started experimenting with asian cuisine and cooking fish whole. From then on I have had the confidence to tackle almost any type of fish recipe, and this one is definitely one of the easiest. It's been years since I have bought those pre packaged frozen fish boxes, and trust me you will too once you try this recipe. It's as simple as emptying 1 package of extra crispy shake and bake into a shallow bowl, along with 1 cup of panko bread crumbs, brown sugar and seasonings. Then coating the salmon fillets, before baking at 400 degrees f for 10-15 minutes then that is it, dinner is served. Pair these super flaky and moist salmon fillet with your favorite vegetable, we like kale very much with this fish as seen below.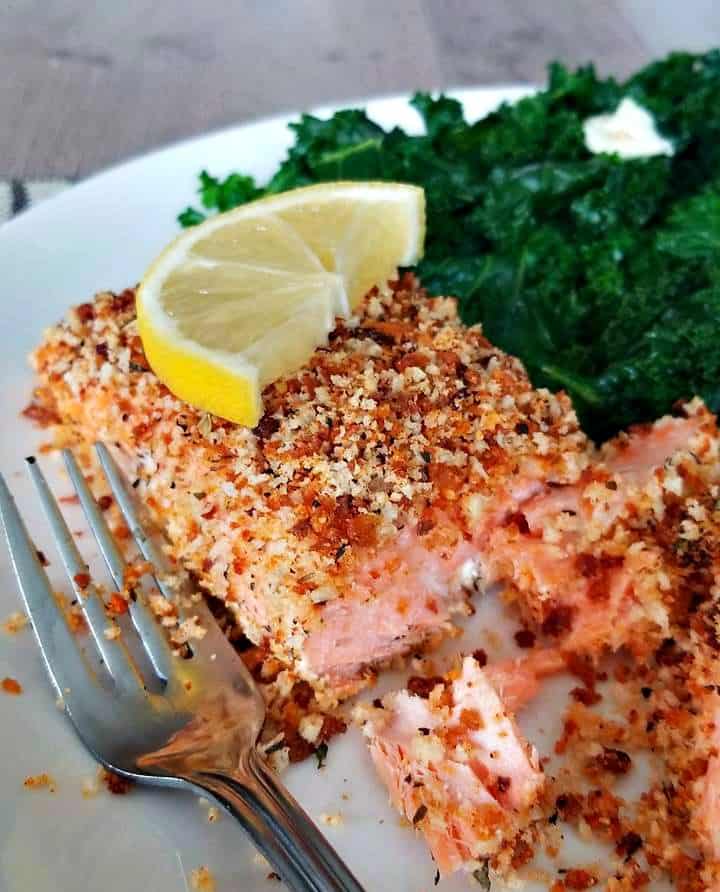 This is sure to make it to your dinner time more often, once your family gets a taste of it.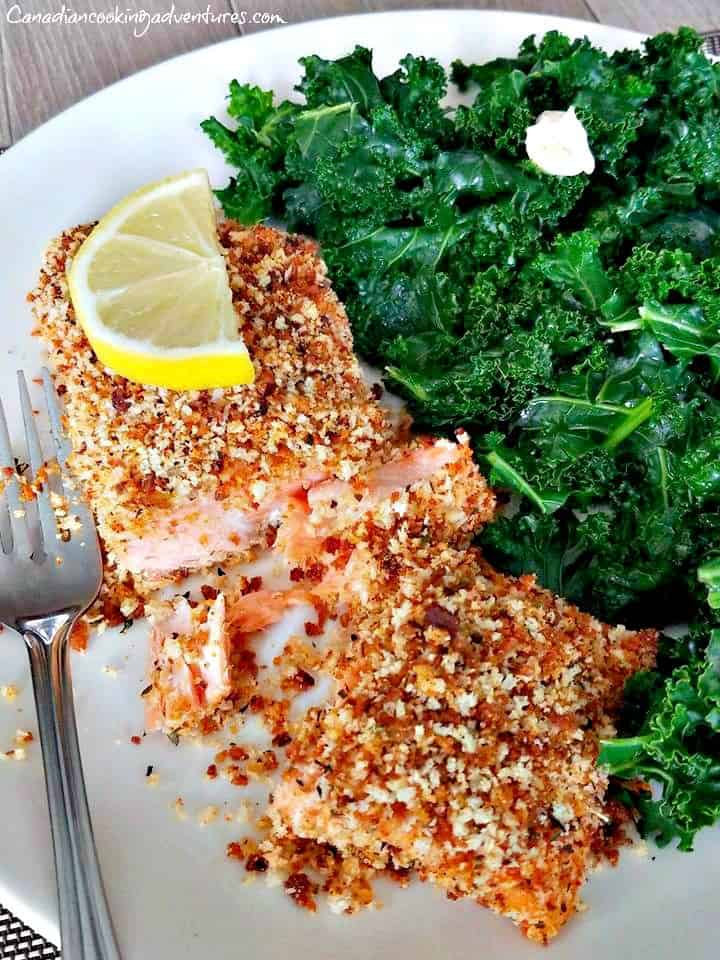 Serve with some fresh lemon wedges and a side of your favorite vegetable and possibly some rice.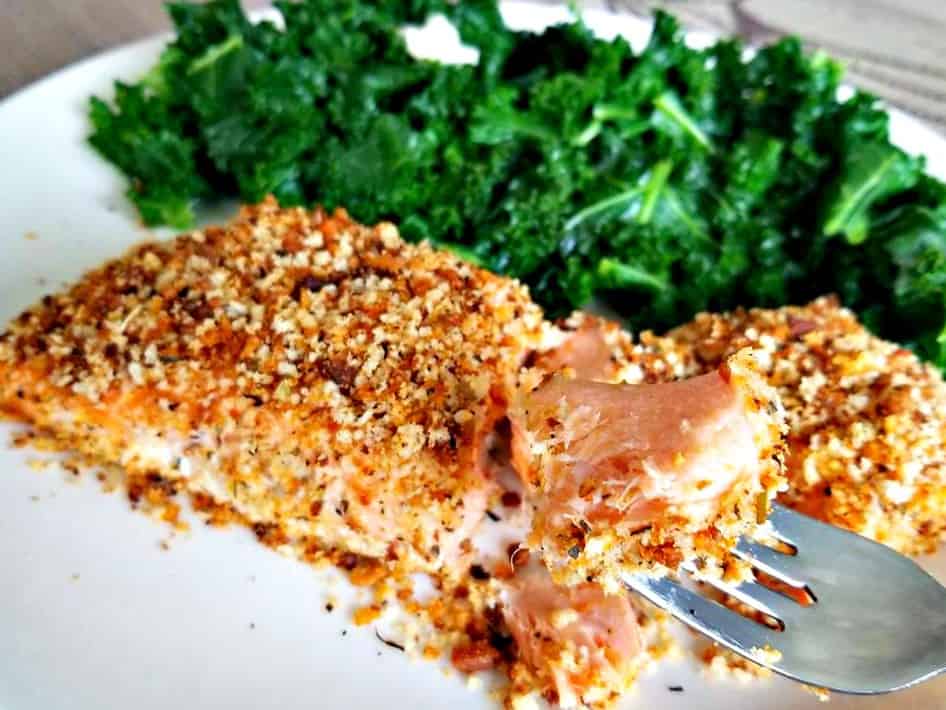 Cook at 400 f for a maximum of 15 minutes for a super flaky and moist salmon fillet.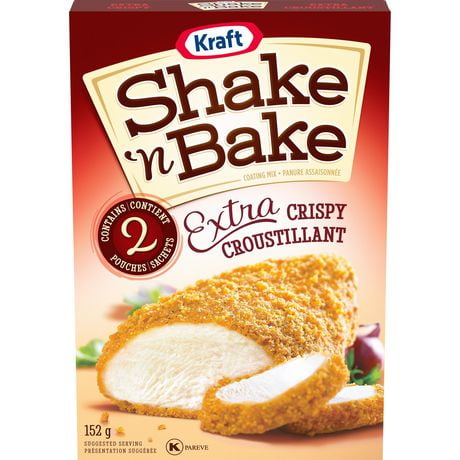 This is the kind of shake n bake that I use for this recipe!
To make the Herb Crusted Salmon:
Start by rinsing your salmon and leaving it a bit moist, so it enabled the crust to stick.
In a large dish, empty one package of Original Shake n Bake and 1/2 cup of panko bread crumbs. Then add in all your spices.
Mix everything till combined.
Add your salmon to the dish one at a time, and coat it completely in the seasoning. Turn over the fish and repeat. 
The place the fish on your non stick baking tray, "if it's not none stick" lightly spray with cooking oil".
With the remaining herbs place on top the fish to create a 1/2 inch crust on top. 
Bake at 400 f for 10 – 15 minutes depending on how well done you like your fish.
Once your fish is cooked, serve immediately with your side of choice and lemon wedge.
Enjoy!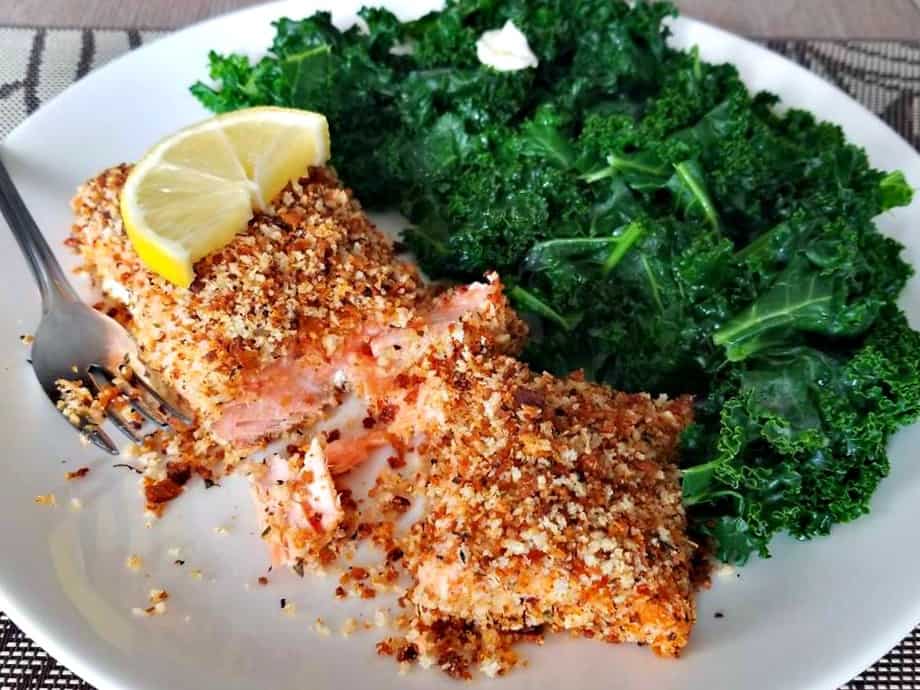 You can't go wrong with this simple yet flavorful dish that is sure to make you a salmon lover for life.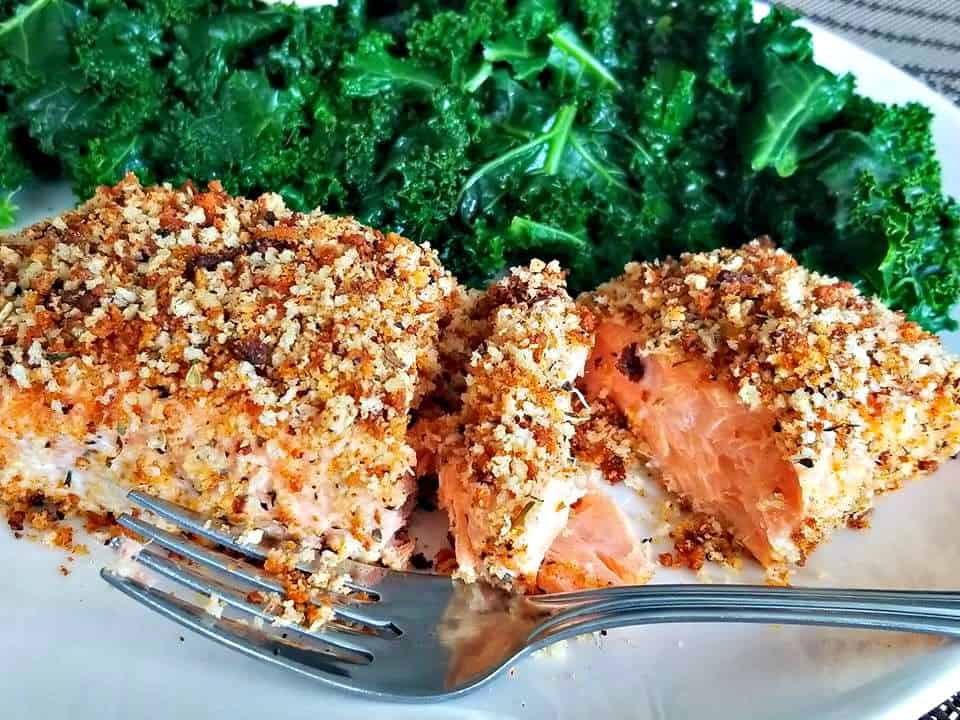 Note: As with any of my recipes, you can adjust the serving size above to reflect the number of people you are cooking for.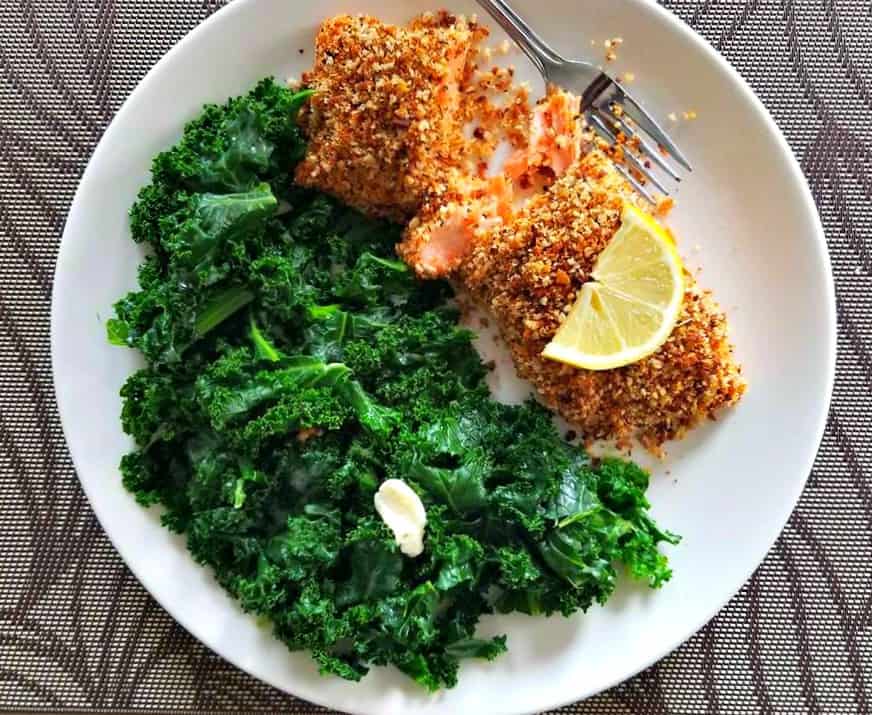 I'm thrilled you are reading one of my recipes, if you made this recipe id love to hear about it! You can post a review, picture below or via Instagram and by doing so you will be automatically entered into our seasonal CONTEST to win one of our great prizes. Winner will be notified via email within a week after the contest closes. Thank you and until next time see ya in the kitchen. Don't want to miss a recipe? Sign up for our NEWSLETTER delivered right to your inbox!