Directions
This
Creamy Cabbage Slaw for Fish Tacos

is the creamy and has hints of spice to it from the adobo sauce.

Looking for 2 fish taco recipes to accompany this slaw? Then you are going to want to try my Blackened Tilapia Fish Tacos or my Spicy Shrimp Taco with this red cabbage slaw it is delicious.

Or you can serve this slaw always on Pork Carnitas if desired.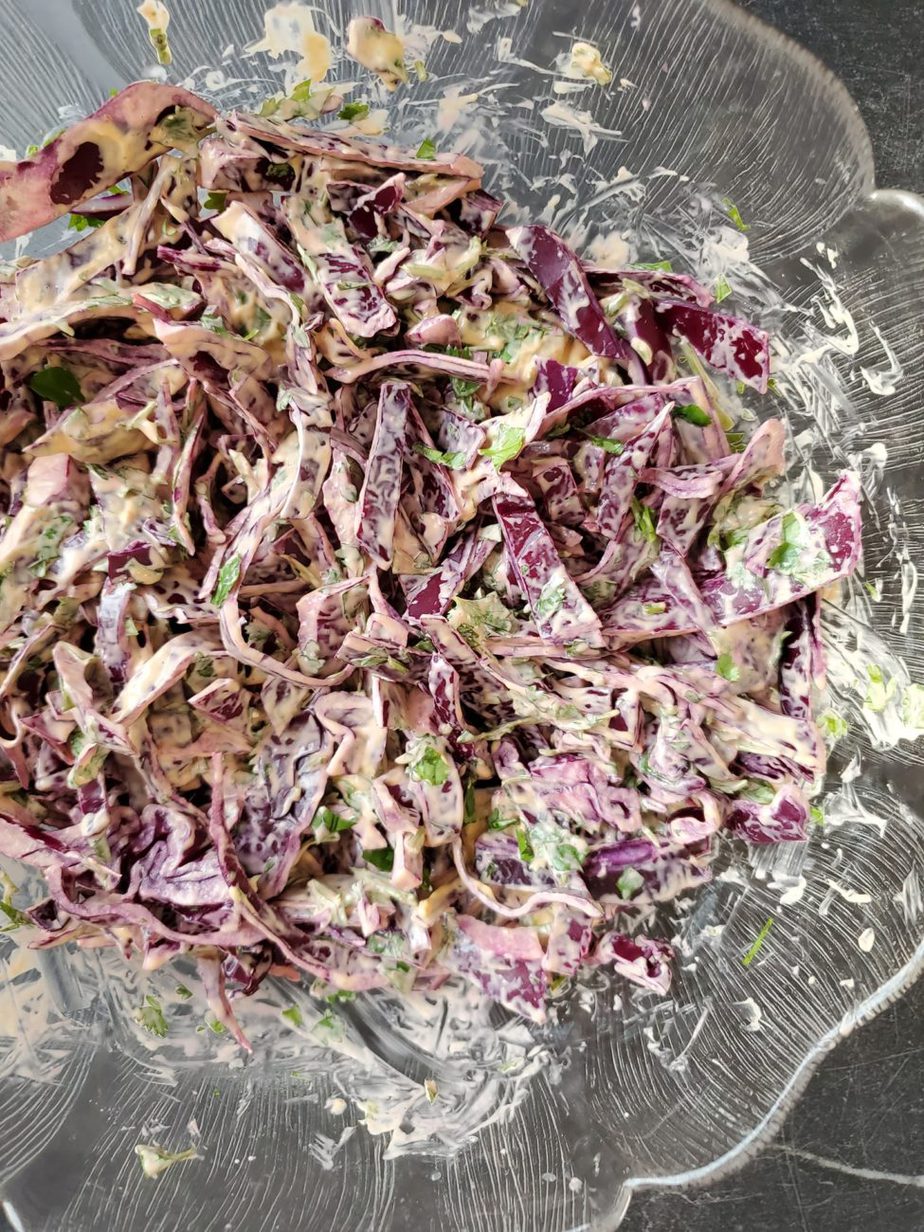 If you make fish tacos often in your home like we do, then your going to want to try this red cabbage slaw for your fish tacos.
Or you can also try homemade Pico De Gallo that also goes great with tacos as well. Or my homemade Cabbage Pico De Gallo which are both more coarsely chopped slaws.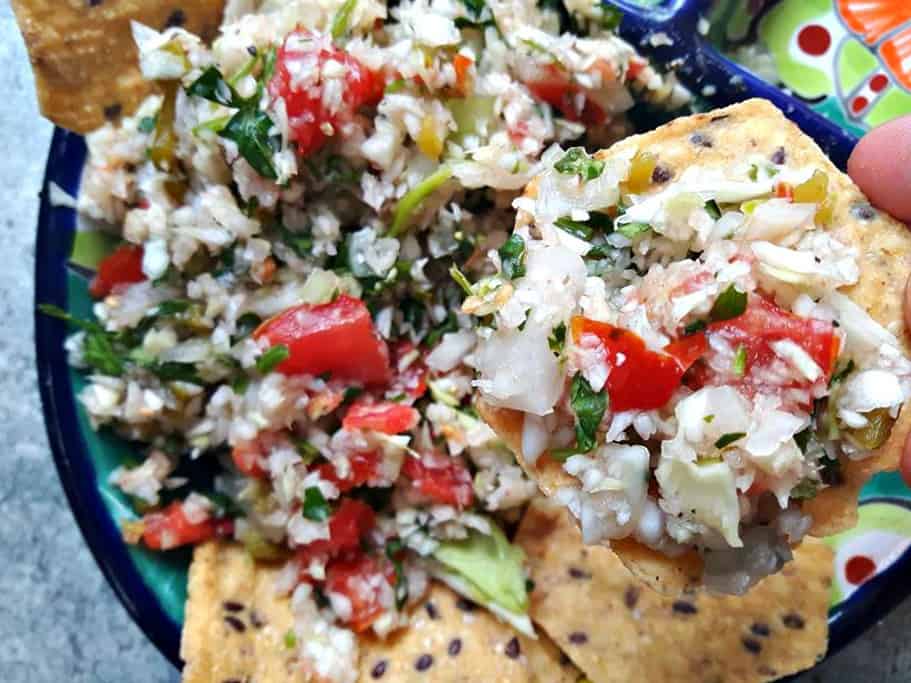 WHAT IS CREAMY RED CABBAGE SLAW
It is simply, sliced red cabbage with cilantro, lime juice and a creamy mayo/sour cream chipotle adobo sauce. You can slice the cabbage very thin or thicker based on your preference.
Then it is then seasoned with salt and pepper and goes well on fish tacos.
WHAT IS CHIPOTLE ADOBO SAUCE
Chipotles in adobo are smoked and dried jalapeños rehydrated and canned in a sweet and tangy purée of tomato, vinegar, garlic, and some other spices.
When making this for fish tacos, be sure to make one hour ahead of time.
This slaw is best once it marinates.
TYPE OF FISH TACOS
You can also substitute the tilapia for another white fish such as halibut or cod.
Shrimp too is also a popular option.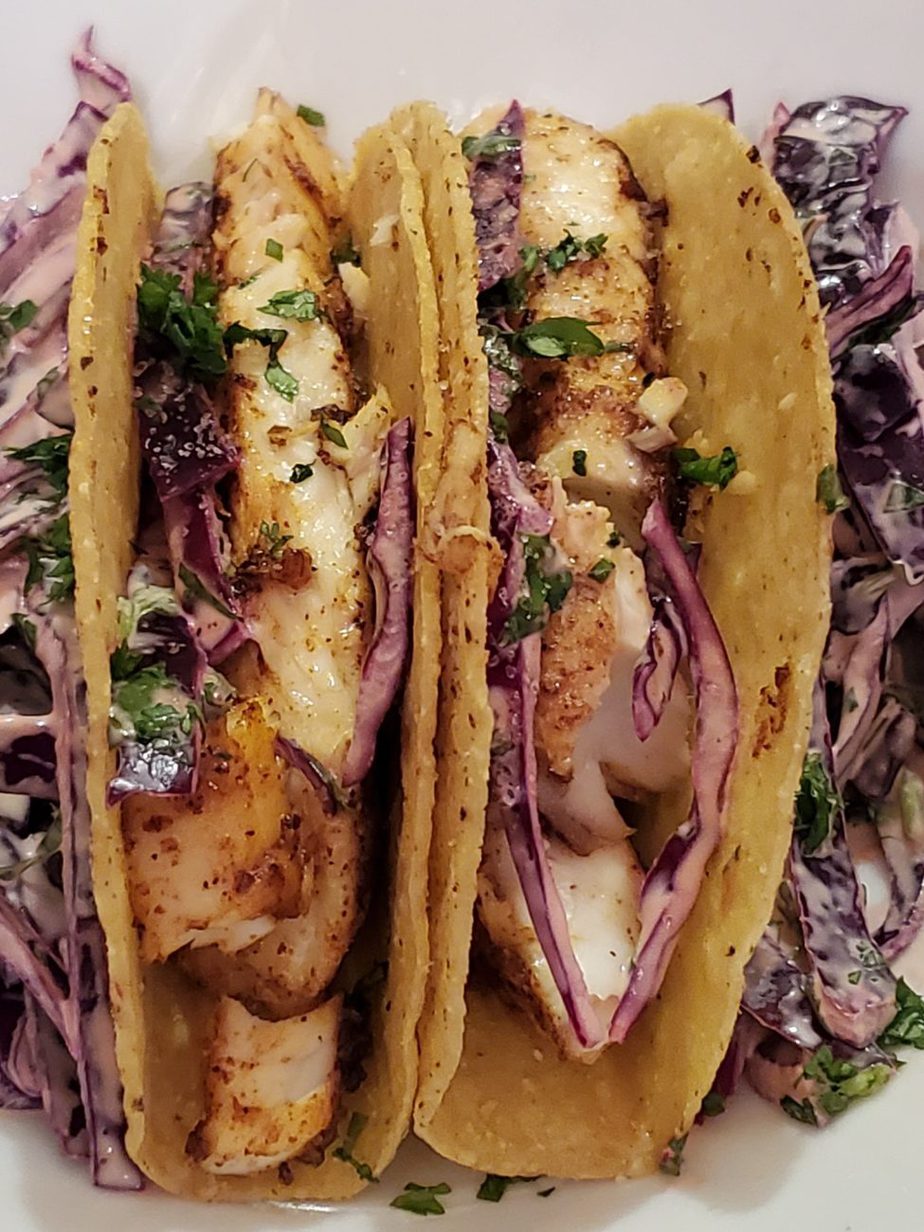 Looking for more Fish Taco recipes?
Try my Blackened Tilapia Fish Tacos or my Spicy Shrimp Taco with this red cabbage slaw.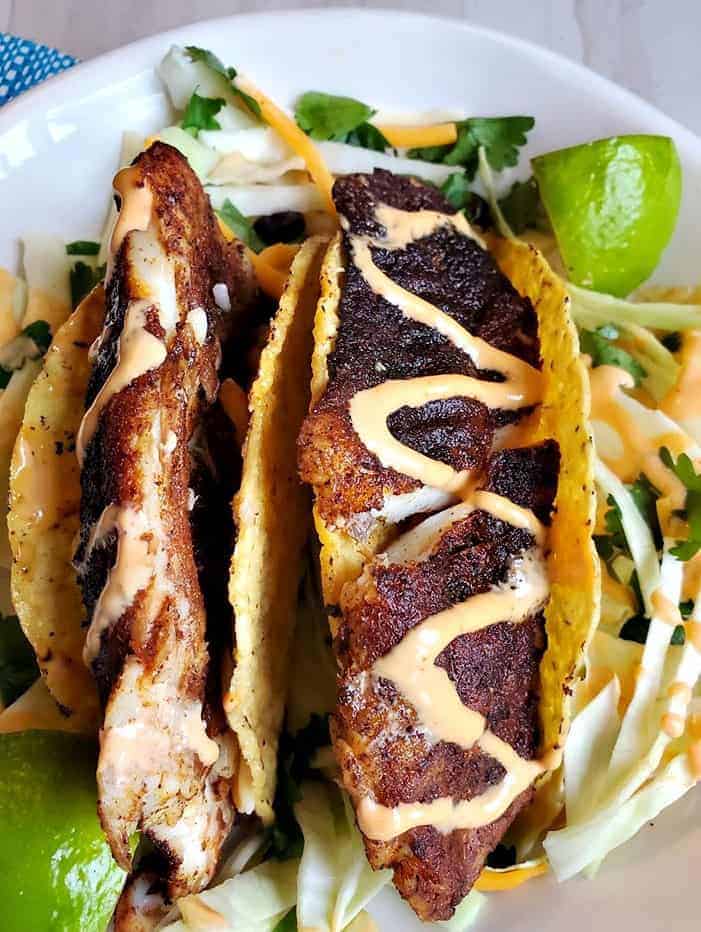 RED CABBAGE SLAW TACOS FOR A CROWD
This recipe can feed roughly 6 people. Wanting to feed less or more? Simply remove or add one more cup of sliced cabbage and cilantro. Easy as 1, 2, 3!
HOW LONG DOES RED CABBAGE SLAW LAST
You can store it in the Fridge in a sealable container up to 5 days.
MORE MEXICAN RECIPES
DID YOU MAKE THIS RECIPE?
If you make this recipe, I would love to hear about it! You can leave a 5 star review in the comments below! Thank you very much for reading and until next time see ya in the kitchen. Don't want to miss a recipe? Sign up for our NEWSLETTER delivered right to your inbox!
Creamy Cabbage Slaw for Fish Tacos
Ingredients
2 cups of sliced or shredded red cabbage
1 cup of chopped cilantro
½ cup mayo
½ cup plain sour cream
2 tbsp chipotle adobo sauce
2 lime, juiced
salt and pepper to taste
Instructions
Slice or shred your cabbage and place in a large bowl, add in the chopped cilantro and squeeze the juice from one lime overtop.
Meanwhile, in a blender add the adobo peppers, sour cream and mayo.
Blend until smooth and add to the slaw.
Toss to coat and season according to taste.
Store in the fridge one hour prior to serving.
Nutrition Information:
Yield:

6
Serving Size:

1
Amount Per Serving:
Calories:

199
Total Fat:

18g
Saturated Fat:

4g
Trans Fat:

0g
Unsaturated Fat:

13g
Cholesterol:

19mg
Sodium:

203mg
Carbohydrates:

9g
Fiber:

3g
Sugar:

5g
Protein:

2g
These calculations are based off Nutritionix