Directions
This Chocolate Strawberry Frosty is super creamy healthy and delicious!
Do you love Strawberries? how about Chocolate? Well then this creamy treat is going to make you very happy.
And since summer is right around the corner, now is a good time to learn to make these types of treats for yourself.
Plus the nice thing is they really take no special skills at all to make, simply make sure everything is cold prior and your good to go!

I admit I used to be one of those people that would get all caught up it it.
Idling my car in those ridiculously long drive thru lineups, just because I needed that cooling taste of a creamy frosty.
I knew they were not very healthy but the reward of a creamy cool down was worth it!
Well I found a way to have that cool cooldown at home and in a much healthier way.

This recipe has the addition of a banana in it, however if you want just a Chocolate Frosty, then you can omit the banana. Easy eh enough eh!
Since these frosties contain all natural ingredients vs some of those unmentionable ones you do find in the restaurant kinds.
You can really feel good about making and serving these to your family and friends on those hot summer days!
A frosty is basically like Chocolate ice cream, made in a similar way. However the trick is to make it with very cold ingredients and to only let it sit in the freezer there after for a minimum of 15 minutes. You do not want it to freeze otherwise it will be more like a ice cream!!
Plus these frostys are super simple to make as only contains 5 ingredients to make it. This recipe makes the most creamy frosties around.
This recipe will make 2 medium sized frosties, however if your wanting to serve more people, simple double to recipe with my easy to use recipe adjuster above.
When making frostys at home, your expected to enjoy them shortly after. Because this is not ice-cream and itt does not need freezing at all. A frosty literally can be made and enjoyed in less than 30 minutes from start to finish!
Just be sure to follow the directions I have listed below and you will be on your way to Strawberry Chocolate frosty heaven!
Like this recipe? Try my "Chocolate Banana Frosty " or my "Chocolate Frosty" it is very similar to this with a fruit flare.
DID YOU MAKE THIS RECIPE?
If you make this recipe, I would love to hear about it! You can leave a 5 star review in the comments below! Thank you very much for reading and until next time see ya in the kitchen. Don't want to miss a recipe? Sign up for our NEWSLETTER delivered right to your inbox!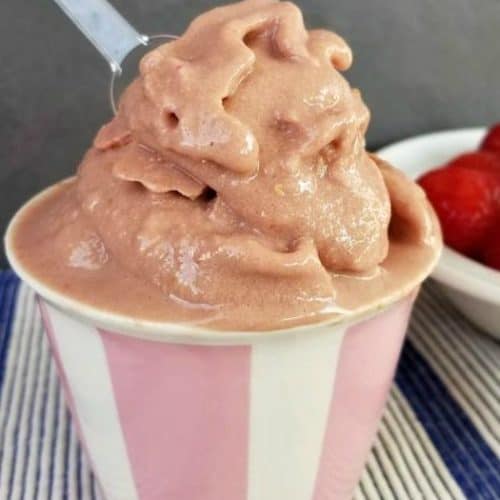 Chocolate Strawberry Frosty
Ingredients
1 1/2 cups Ice Cube Tray, Chocolate Milk
1 tbsp Unsweetened cocoa powder
7 tbsp Sweetened Condensed Milk
1/2 cup Fresh or Frozen Strawberries
2 cups Heavy Whipping Cream
1 tsp Pure vanilla extract
Instructions
Start by adding one frozen ice cube tray filled with frozen chocolate milk to a blender along with a frozen banana.
Blend on low till smooth, then add in the cocoa powder along with the vanilla extract and sweetened condensed milk.
Pulse together till blended.
Next in a medium sized "metal bowl" add the cold whipped cream and beat till stiff peaks form.
Fold the whipped cream into the blended chocolate mixture and mix together with a spatula. Serve as is or store in the freezer for 15 minutes to have a thicker frosty! Enjoy
Nutrition Information:
Yield:

2
Serving Size:

1
Amount Per Serving:
Calories:

1160
Total Fat:

96g
Saturated Fat:

61g
Trans Fat:

3g
Unsaturated Fat:

29g
Cholesterol:

307mg
Sodium:

227mg
Carbohydrates:

62g
Fiber:

2g
Sugar:

58g
Protein:

17g
These calculations are based off Nutritionix