Directions
This

Chinese fried rice restaurant style recipe

is super simple to make and an inexpensive option to takeout. The trick to making the rice like something you would order as takeout is to cook the rice the day prior.
Try serving this rice alongside some Black Pepper Shrimp or Asian Chicken Drumsticks to make it a full meal.
Chinese fried rice restaurant style is made with scrambled eggs and a few frozen vegetables that also make it very traditional.
You can make it spicy too by adding either some red chili paste or red pepper flakes. This recipe is one of my go to takeout inspired recipes to make at home.
Looking for another Vegetarian fried rice recipe? Try my Chinese Mushroom Fried Rice!
HOW TO MAKE Chinese fried rice restaurant style
The trick to making GOOD Chinese fried rice is to cook the rice the day prior. I like to cook my rice always in a "rice cooker" it cooks it just perfectly every time.
Then I will remove it from the rice cooker and leave it uncovered for 24 hours on the shelf. In which I will use for the next day, to make this recipe.
Leaving it on the shelf for 24 hours allows it to dry out enough to make the most perfect fried rice.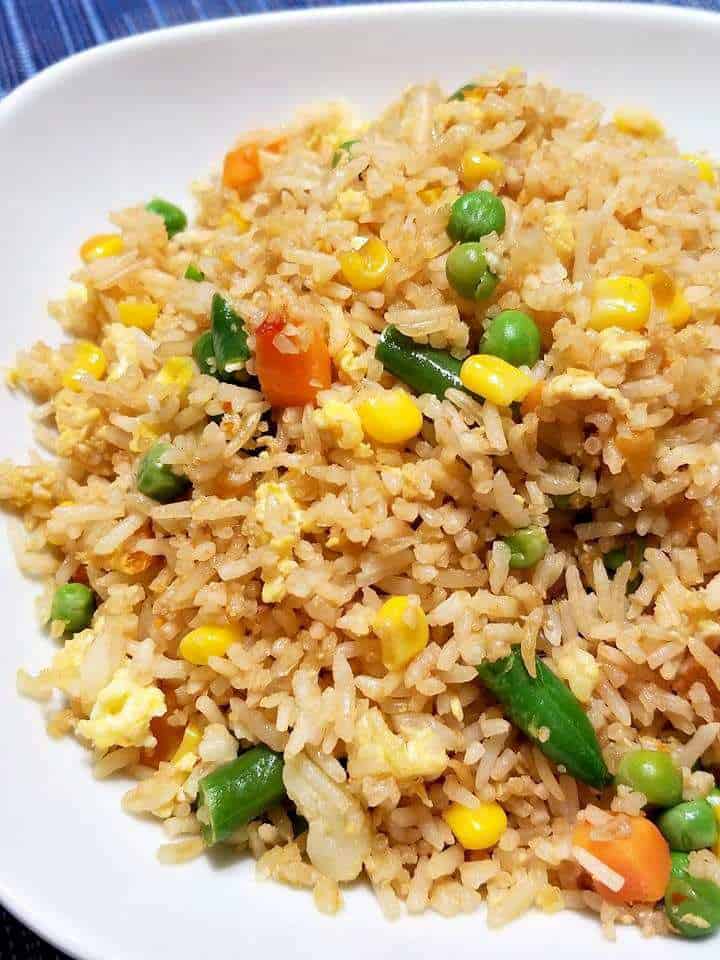 Then when your ready to make the rice you will simply add the cooking oil to the pan and then dump the rice out frying it till it reaches the level of crispiness you desire.
Once it has you then can remove the rice, add then place 1 tbsp of sesame oil back into the pan along with the eggs to scramble.
Once the eggs have scrambled, add back in the rice and mix well.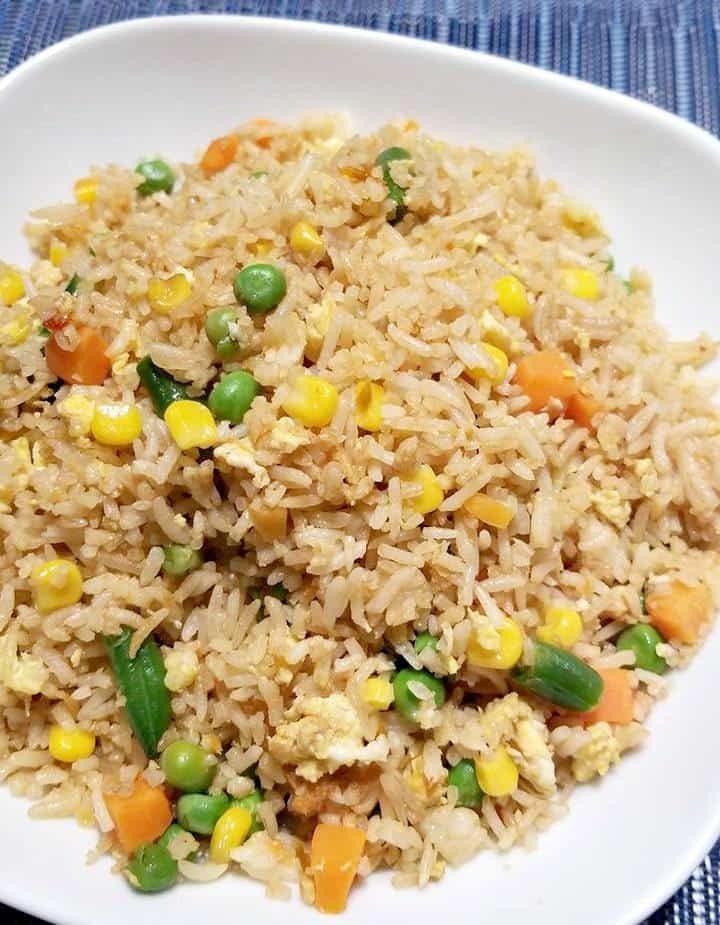 Add in the seasonings and sauté all together on medium to low heat for another 5 minutes and serve. That's it Chinese egg fried rice is ready to enjoy!
Feel free to sauté some chicken, shrimp or beef on the side and mix that in if desired.
If you liked this recipe? Then you will want to try my other ASIAN inspired recipes below!
I am so thrilled you are reading one of my recipes, if you made this recipe i'd love to hear about it! You can post a review/picture below or via Instagram and let me know how it turned out. Thank you very much for reading and until next time see ya in the kitchen. Don't want to miss a recipe? Sign up for our NEWSLETTER delivered right to your inbox!
Chinese Fried Rice Restaurant Style Recipe
Ingredients
3 cups One Day Old "Cooked Rice"
2 tbsp Vegetable oil, for frying
1 tbsp Sesame oil
2 large Eggs
2 cups Frozen mixed vegetables, corn, peas, carrots and green beans.
1 tbsp Oyster sauce
2 tbsp Medium Soya sauce
1 tbsp Minced Red Chili Paste
1 tsp Garlic Powder
1 tsp Onion powder
Instructions
In a small bowl whisk together the soy and oyster sauce and set aside.
In a large, nonstick skillet add the cooking oil and the day old rice, saute for a few minutes till the rice is fully heated and a bit crispy. Then remove the rice and set aside.
Then in the same pan add 1 tbsp of sesame oil and 2 beaten eggs. Scramble them and chop them up finely with a spatula while cooking. Remove the eggs and set aside.
Now add in the mixed vegetables along with all the seasonings, add back in the rice and eggs.
Fry everything together for about 5 minutes. Serve and enjoy!
Nutrition Information:
Yield:

2
Serving Size:

1
Amount Per Serving:
Calories:

649
Total Fat:

27g
Saturated Fat:

4g
Trans Fat:

0g
Unsaturated Fat:

21g
Cholesterol:

186mg
Sodium:

919mg
Carbohydrates:

83g
Fiber:

16g
Sugar:

20g
Protein:

21g