Ingredients
1 package (550 grams)

Chicken Tortellini

1 bottle

Green Mexican Sauce (Salsa Verde)

Pinch of Salt and Pepper to taste
Directions
This simple one pan recipe is made with chicken tortellini, baby tomatoes, sour cream and green verde sauce. It doesn't get any simpler than this folks!
If you have tried Green Chili verde in Mexican cooking before and liked it. Then your sure to like this Chicken Tortellini Verde which is made in the same Tomatillo green sauce.
Your probably thinking, Italian pasta and Mexican Green Chili Verde! Could that possibly be good? Well I assure it is because it has the right balance of flavors.
And this recent recipe creations has turned out to be a favorite in our home.
Sure, you won't typically find this offered in any mexican or italian restaurant. However I encourage you to give it a try if you are a foodie like me! It's an excellent fusion dish and is absolutely delicious!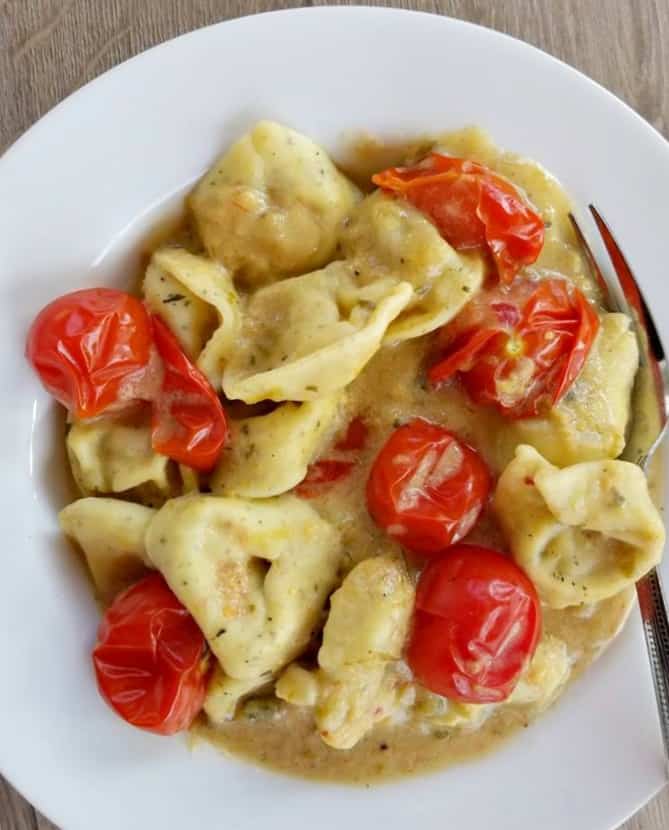 Now there is a process to making authentic tomatillo sauce and that starts with roasting tomatillos, along with garlic, jalapenos and onions in the oven.
However that takes a lot of time and would make this recipe not so quick. So instead we are using a pre -made green chili sauce that has all those authentic mexican ingredients in it.
So what are Tomatillos anyway? Well they are little green looking tomatoes, known as the Mexican husk tomato, but they are hard to find here in Canada.
And even so I prefer to buy it pre-made its still natural and fresh. Also don't forget to add the sour cream as well, this really kicks up the flavor and pulls the dish together.
I am so thrilled you are reading one of my recipes, I appreciate every single one of you! If you made this recipe i'd love to hear how it turned out. You can post a review/picture below or via Instagram and let me know. And by doing so you will be automatically entered into our seasonal CONTEST to win one of our great prizes. Winner will be notified via email within a week after the contest closes. Thank you very much for reading and until next time see ya in the kitchen. Don't want to miss a recipe? Sign up for our NEWSLETTER delivered right to your inbox!
CHICKEN TORTELLINI VERDE
This simple dish is ready in under 15 minutes!
Ingredients
1 package, 550 grams Chicken Tortellini
1 bottle Green Mexican Sauce, Salsa Verde
1 cup Baby tomatoes
3 tbsp sour cream
Pinch of Salt and Pepper to taste
Instructions
Start by boiling a pot of water then pour in the tortellini and cook according to package instructions or when the pasta floats to the top.
Strain the pasta and place into a pan along with the bottled salsa verde, whole baby tomatoes and sour cream.
Stir to combine and cook on low to medium heat for roughly minutes. Season with salt and pepper to taste enjoy!
PIN IT FOR LATER