Directions
This simple

Chicken Pesto Ravioli

pasta dish is made with just four simple ingredients! Dinner really can get any simpler than this, I'm talking READY in under 20 minutes!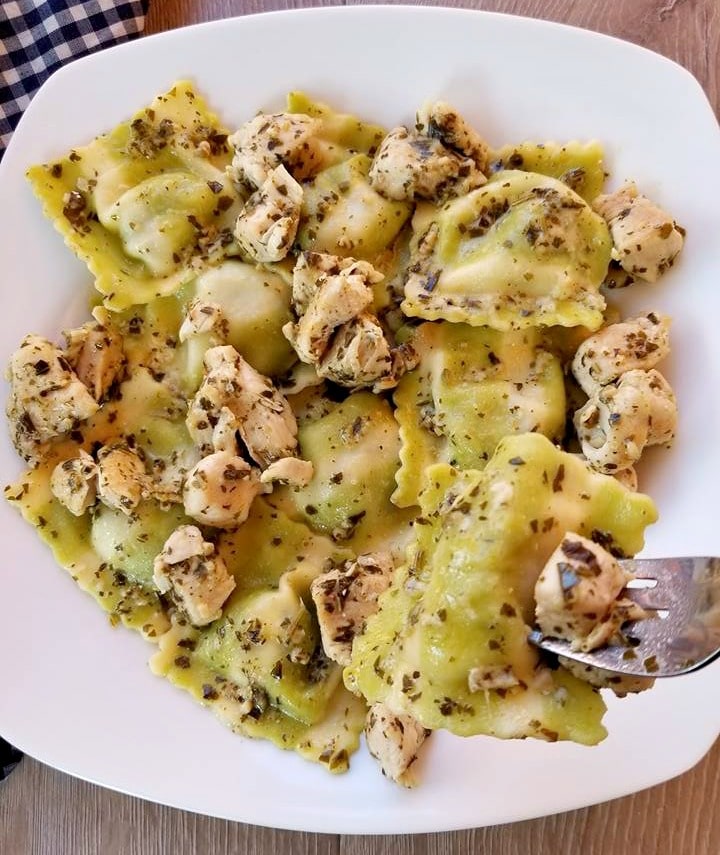 The four ingredients to make this Chicken Pesto Ravioli consists of one pre-made fresh packaged of ravioli, chicken breasts, pesto sauce and parmesan cheese. Want another tasty ravioli recipe? Try my Mushroom Ravioli Al Forno
HOW TO MAKE CHICKEN PESTO RAVIOLI PASTA
To make this dish all you will need is one large cooking pan.
A chicken breast, a can of pesto and parmesan cheese.
Oh and of course a package of pre-made ravioli
What can be easier than that? You can use just about any type of Ravioli as well for this recipe.
For this recipe, I used Olivier Spinach Ravioli however you can use any kind of pre-made ravioli that you like.
WHAT IS CHICKEN PESTO PASTA
It is cooked chicken breasts and pasta that are seasoned with pesto!
Also, I like to use the Classico Pesto as seen below!
I hope you can forgive me as I was in a hurry and did not want to make any Ravioli or Pesto from scratch. If you want to though then by all means go ahead.
Their are a ton of great recipes on the web for both of those ingredients.
However if your in a time crunch like me, then follow along.
The pesto gives the dish it's fantastic flavor, which has balance of flavors that is not at all overpowering but rather savory.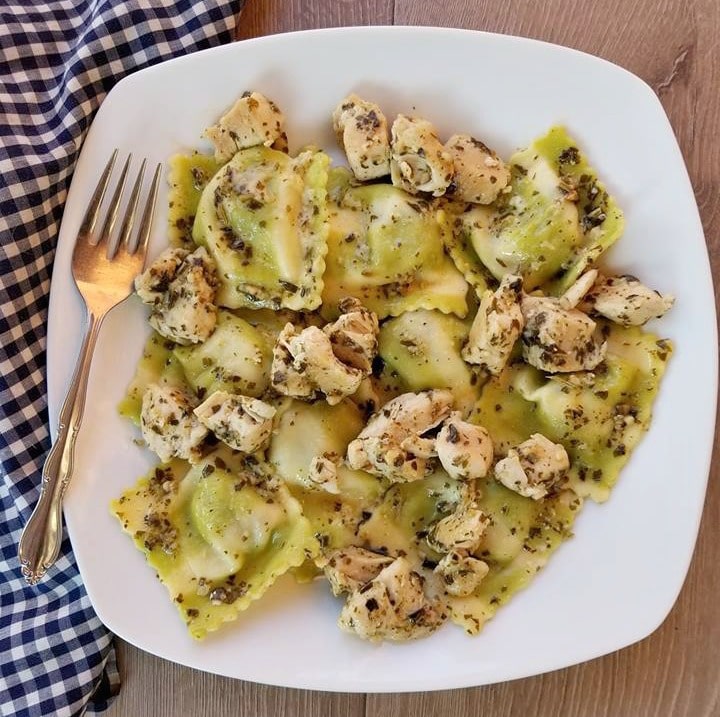 This type of Ravioli is defiantly for those with a more sophisticate palette and it can be served for just about any special occasion that you can think of.
Quite simply it's a dance of wonderfully balanced flavors in your mouth.
Chicken Pesto Ravioli TABLE for 2!
This recipe can be served as a romantic dinner for two or double the recipe and then you can serve a family of four or more.
It also is a very versatile dish and really takes no special skills at all to make, so what are you waiting for?
Other Ravioli Dishes that you will love
I am so thrilled you are reading one of my recipes, if you made this recipe I'd love to hear about it! Don't want to miss a recipe? Sign up for our NEWSLETTER delivered right to your inbox!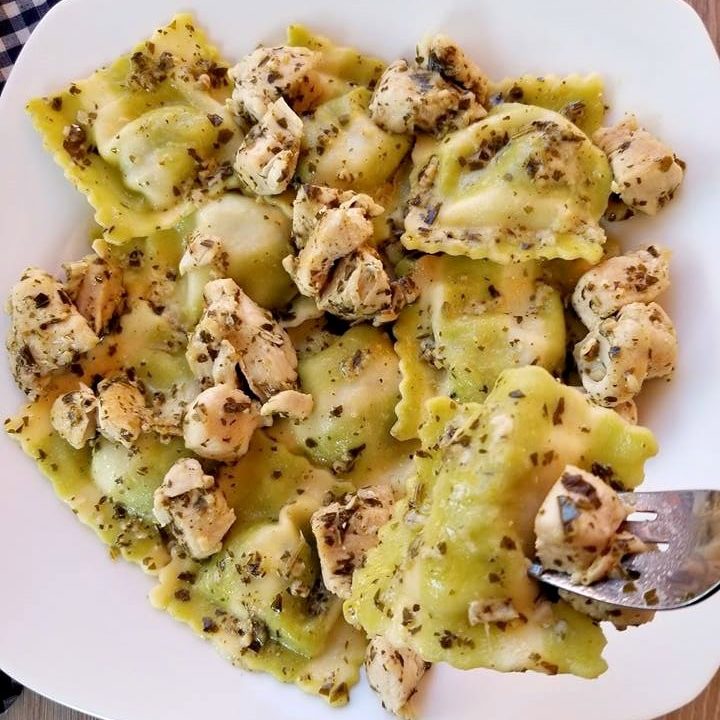 Chicken Pesto Ravioli
Super simple yet elegant meal!
Ingredients
2 tbsp Butter
2 Boneless chicken breasts
1/2 cup Chicken Stock
300 grams Olivieri Spinach Ravioli
4 tbsp Fresh Parmesan cheese
2 tbsp Classico Basil Pesto
Instructions
Start by slicing the chicken breasts into bite sized pieces.
Then melt two tbsp of butter in a frying pan, then add in the cubed chicken breasts.
Saute till lightly browned and cooked, do not over cook.
Add in the chicken stock and packaged ravioli and cook according to package instructions.
Once the ravioli has cooked add in the basil pesto and stir to combine then lastly add in the fresh parmesan cheese. Once it melts completely, remove from the heat and serve. Enjoy!
Nutrition Information:
Yield:

2
Serving Size:

1
Amount Per Serving:
Calories:

764
Total Fat:

39g
Saturated Fat:

17g
Trans Fat:

1g
Unsaturated Fat:

19g
Cholesterol:

240mg
Sodium:

1063mg
Carbohydrates:

45g
Fiber:

3g
Sugar:

3g
Protein:

57g