Ingredients
1 lb (450g)

Chinese Broccoli (Gai Lan)

3

Boneless chicken breasts

1 tbsp

Ginger/Garlic Paste

Sauce
Directions
This delicious and authentic Chicken Broccoli and Cabbage Stir fry stir fry takes less than 30 minutes to make too, so what are you waiting for. Follow along for a mouthwatering dinner that everyone is sure to love.

This dish can be made with beef too

which is also amazing.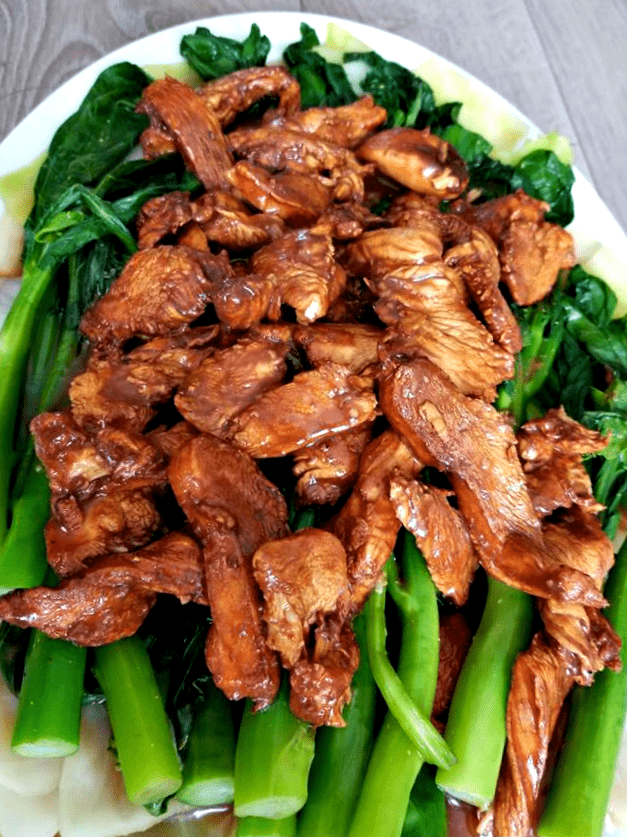 The first time I tried Chinese Broccoli was a few years back, I saw it ordered to the table next to me. And said, what is that? The waitress said Gai lan with a strong accent, I said Gay lan? She said YES Gai Lan it's Chinese Broccoli, do you want? I said YES please!!
It came to the table in a creamy hot chinese sauce, I was hooked. I have always liked Broccoli but to be honest never loved it. Well now I can say I love Broccoli, the Chinese variety of course.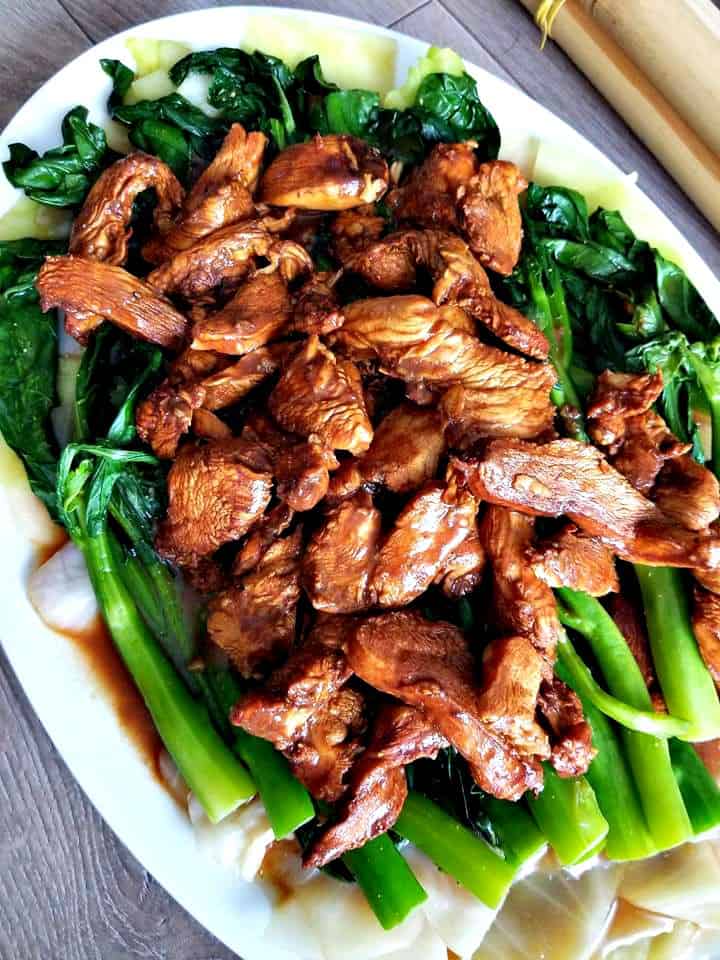 Plus I was pleased to find out it carries all the same health benefits of the more common broccoli most of us are more accustomed to. This is one of my favorite ways to make Gai Lan, with a mixture of cabbage and chicken. You can omit the cabbage if you wish, and substitute it for bok choy even or just prepare with the Gai Lan.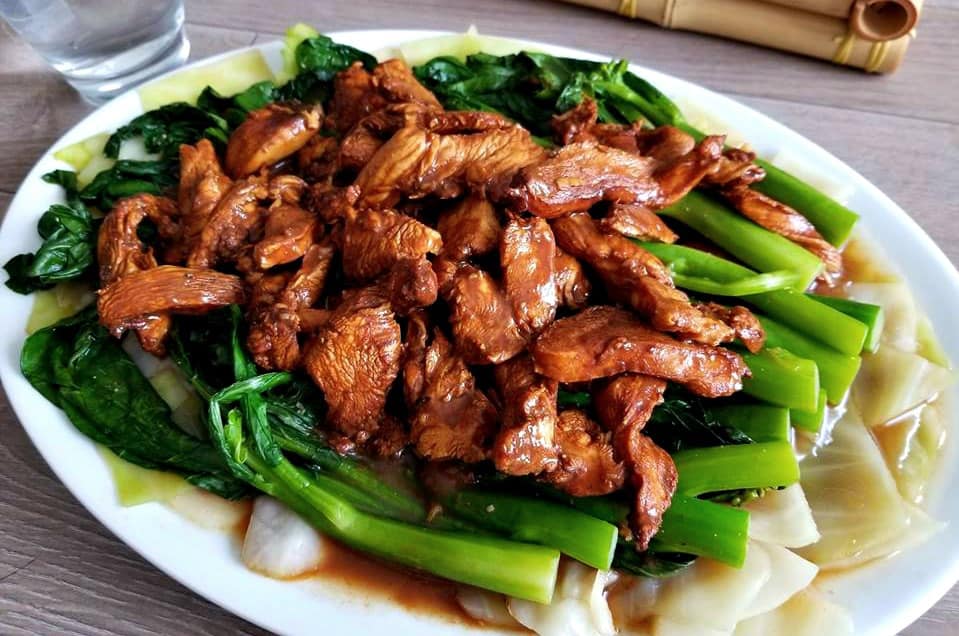 The trick when cooking this dish is to not overcook the broccoli, you want it tender yet crisp. To do that, you will first boil a pot of water and then place the washed broccoli it in to boil for no more than 2 minutes, then remove it immediately and placing directly in a pot of cold water to cool down.
The last time the broccoli will see direct heat, is at the end of preparing this dish. Where you will mix it together with the chicken and sauce allowing it to simmer before serving. For the cabbage you want to place it in the boiling water, 2 minutes before the Chinese Broccoli this gives it the perfect time to tenderize while not overcooking the broccoli.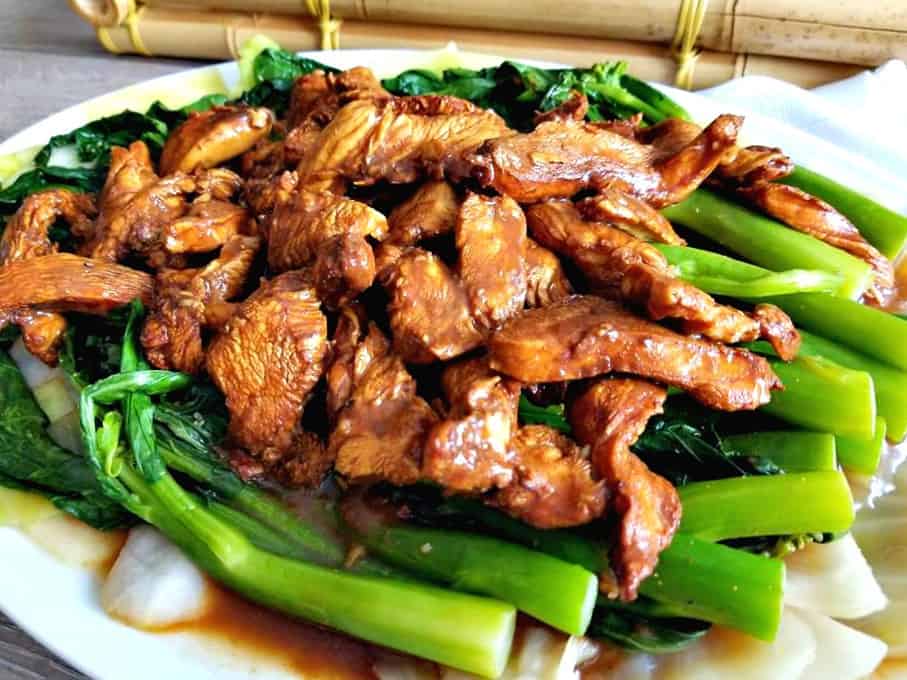 I don't know why I used to be intimidated by chinese cooking, I guess it was because it was not something I was ever accustomed to making. I've have learned that true chinese cooking is pretty simple, and entails cooking a lot of healthy whole foods then simply adding the right sauces and techniques to produce one of a kind dishes. Rarely do chinese dishes take hours to prepare, unless your doing a barbecued duck or something.
This healthy meal is sure to impress even the pickiest of eaters, serve alongside a big bowl of jasmine rice.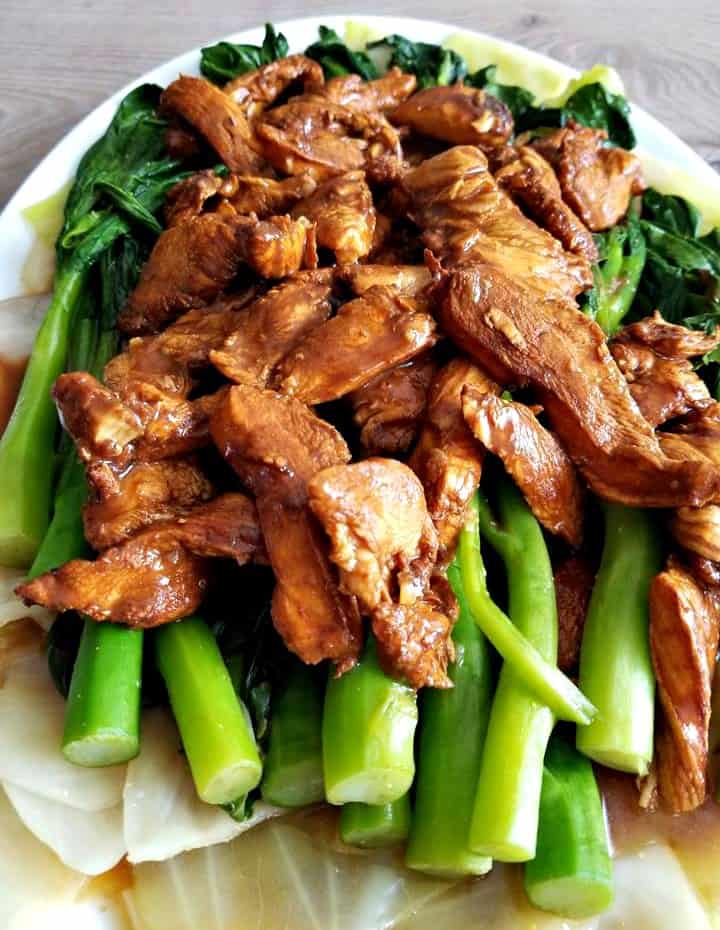 I am so thrilled you are reading one of my recipes, if you made this recipe id love to hear about it! You can post a review, picture below or via Instagram and let me know how it turned out. And by doing so you will be automatically entered into our seasonal CONTEST to win one of our great prizes. Winner will be notified via email within a week after the contest closes. Thank you very much for reading and until next time see ya in the kitchen. Don't want to miss a recipe? Sign up for our NEWSLETTER delivered right to your inbox every Month!
Print Recipe
Chicken Chinese Broccoli and Cabbage Stir fry
Ingredients
1

lb

450g Chinese Broccoli (Gai Lan)

1

cup

Green Cabbage

3

Boneless chicken breasts

1

tbsp

Ginger/Garlic Paste

1

cup

Chicken Stock

1

tbsp

Cooking oil
SAUCE
2

tbsp

Oyster sauce

1

tbsp

Sesame oil

2

tbsp

Soya sauce

2

tbsp

Hoisin sauce

1/2

tsp

black pepper

3

tbsp

Rice vinegar

2

tbsp

Corn Starch
Instructions
Start by washing the Chinese Broccoli thoroughly and set aside.

Cut in half a medium to small head of cabbage, and with the half dice it into pieces.

Wash the cabbage and set aside.

Next slice the chicken breasts diagonally then in half/pieces and place in a bowl to marinade.
MARINADE: In that same bowl add the sesame oil, soya sauce, rice wine, hoisin sauce, oyster sauce, cornstarch and salt and pepper.
Mix everything till combined, and then let the Chicken marinade for 10 minutes. (Keep the marinade bowl) you will be adding Chicken stock to it later to fully utilize the remaining marinade.

In a large frying pan or wok, heat 1 tbsp of cooking oil and saute the marinated chicken till fully cooked and  set aside.

In a large pot of boiling water, add the cabbage and cook for 2 minutes, then add in the chinese broccoli and cook another 2 minutes.

Quickly remove the cabbage and broccoli from the heat and place in a large pot of cold water, once cooled strain out the water.

In the marinade bowl, add 1 cup of chicken stock and scrape the sides of the bowl to remove all the leftover marinade.

Next in the frying pan saute for the garlic/ginger paste for 1 minute.

Place back in the strained chinese broccoli and cabbage.

Pour over top the vegetables 1 cup of chicken stock and cooked chicken.

Simmer on low heat, turning often for about 5 minutes or until the sauce thickens up.

Serve with basmati rice.

Enjoy!