Ingredients
1/2 cup

Unsalted Chicken Broth
Directions
While on business trip out east last month, we had Bubba scout out some of the best wild rice Canada has to offer. He ended up coming back home with a huge bag from one of the local farmers out there. And we ended up using just 1/2 cup for this recipe and then mixed it with another 1/2 cup of a wild rice mix blend that we had bought prior from our local organic store. 
Today most people are eating wild rice from a box and in most cases it's been processed and is definitely not the same stuff that this we used in this recipe. Since wild rice naturally grows in the freshwater lakes of North America, it's best eaten as natural as possible since it contains many nutrients that processed wild rice would not. So Bubba encourages you to get your hand on the real stuff… and avoid that processed box variety, trust is it's worth it. The Ojibwa people along with many wild animals in North America, consider this grain to be sacred. Well we agree, and want to send a BIG miigwech = "thank you" to our First Nations peoples for the inspiration us to recreate this amazing and healthy recipe. 
This recipe can be prepared with chicken, hamburger or made vegetarian, all three ways are amazing. I like to use my dutch oven for this recipe, if you do not have a dutch oven then feel free to use a sauteing pan and then a casserole dish once it ready to go into the oven.  Some people like to add grated cheese over top before baking, i don't. And that is because i prefer the earthy taste of the dish, i encourage you to try it in its traditional form = delicious.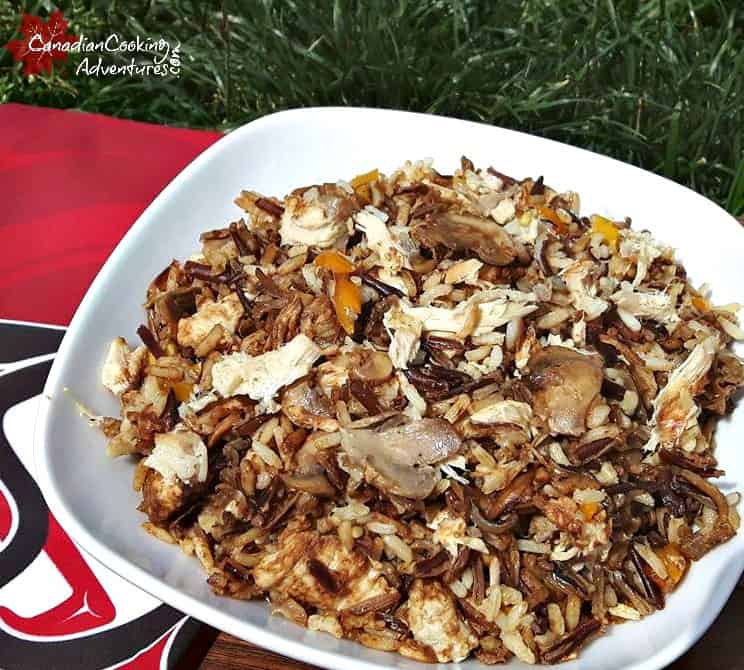 To make the Wild Rice Casserole: Quick rinse method vs the soaking overnight method "This recipe is preferred to the more traditional overnight soaking. The "quick-soak" method permits you to soak the rice in the afternoon and serve it piping hot at the dinner table." ~ Thomas A. Logan
To make the Turkey Wild Rice Casserole: 
Start by washing your "WILD RICE" in a colander, and place into boiling water for 5 minutes, remove and set aside in the hot water for one hour (covered) this allows it to tenderize. 
Next cook the wild rice & your "wild and white rice mixture" together in salted boiling water until nearly tender for another 20 minutes and set aside.
Now melt your butter in a large frying pan and then add your mushrooms and onions, and sauté until caramelized. Add yellow pepper and saute another 5 minutes till soft.
In a small bowl whisk your chicken broth and then slowly pour into your pan with the onions and mushrooms.
Stir in your shredded turkey, and rice.
Season with (soya sauce) optional or salt and pepper.
Cover and bake at 350°F  for 30 minutes. 
Thank you Bubba for finding the best wild rice to make this recipe.
I am so thrilled you are reading one of my recipes, if you made this recipe i'd love to hear about it! You can post a review, picture below or via Instagram and let me know how it turned out. And by doing so you will be automatically entered into our seasonal CONTEST to win one of our great prizes. Winner will be notified via email within a week after the contest closes. Thank you very much for reading and until next time see ya in the kitchen. Don't want to miss a recipe? Sign up for our NEWSLETTER delivered right to your inbox every Month!