Ingredients
2 cups

Shredded Old Cheddar Cheese

Salt and pepper (to taste)
Directions
This is one of our camping favorites and it's really as easy as 1, 2, 3. As you may know Poutine originated in Quebec and has become popular Worldwide. It's typically served with cheese curds and topped with hot gravy, I like to add chili to it when we go camping. To make this hearty recipe, all you need is some "french fries, canned chili and cheese", Oh and you can't forget the gravy. It may not look great but it sure is tasty, filling and is super easy to clean up. Just make sure you purchase the canned chili and gravy, after all this is camping and you want to make it as easy as possible. Also make sure to buy pre shredded cheese for this recipe too, think simple this is camping. Enjoy!
Camping Essentials: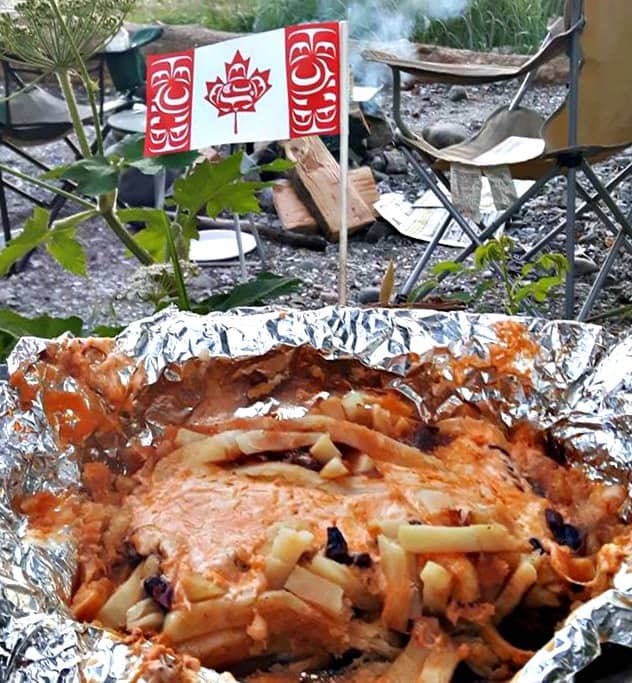 To make the Campfire Chili Poutine:
Lay out your tinfoil in two double layers for extra support.
Cut open your bag of fries (its best not to use the skinny fries here) and pour them onto the tinfoil.
Open your can of Chili, and your can of Gravy.
Pour your Chili over the uncooked fries and then cover with  shredded cheese.
Sprinkle with salt and pepper to taste and close up your package and allow it to cook on the grill for 30-40 minutes.
Once your fries are half cooked, place your canned gravy on the grill and allow it to heat up. Make sure you open it prior to placing on the grill because it will be bubbling and hot once you remove it.
Serve in the middle of the table with forks for all, and pour that hot gravy over-top.
Enjoy!
Note: If you're camping in bear country, take appropriate precautions to keep your campsite as unattractive to bears as possible. To do this simply purchase and properly use a bear-proof garbage container or ensure all your garage is placed in a sealed bin in your vehicle or at a designated dump once your done cooking, this helps keep our wildlife safe and you as well.
I am so thrilled you are reading one of my recipes, if you made this recipe id love to hear about it! You can post a review, picture below or via Instagram and let me know how it turned out. And by doing so you will be automatically entered into our seasonal CONTEST to win one of our great prizes. Winner will be notified via email within a week after the contest closes. Thank you very much for reading and until next time see ya in the kitchen. Don't want to miss a recipe? Sign up for our NEWSLETTER delivered right to your inbox!