Ingredients
3

Boneless chicken breasts

Spices

1 tbsp

Ginger n Garlic paste

2 tbsp

Dried Fenugreek leaves (Kasoori Methi)
Directions
Awww the infamous Butter Chicken, almost everyone that has tried this dish loves it. It's become so popular that the supermarkets are now selling various versions of it in pre packaged bottles. But that stuff just won't cut if for those of us who are familiar with traditional Butter Chicken. Plus those bottles are expensive costing near 4x the price that it takes to make it from scratch, not to mention not nearly as tasty. I think the reason people by those pre-made bottles is because they think making it from scratch is hard, but I assure you it's not. It's all about having the right ingredients, and nothing in this ingredients list is is foreign besides possibly the fenugreek leaves also known as kasuri methi. Bubba assures you, it's just dried fenugreek leaves which can be found in practically any supermarket today, see picture below of the stuff we use. It can be located right in the international aisle at any major superstore. The cooking adventures team, loves this Butter Chicken so much, but when making it for them we have to admit the onions because they're all highly allergic, but for this recipe we will not be doing that. Also you have the option to add cashews to this recipe if you'd like, we have in the past however find that the adding the yogurt, cream along with butter gives it the right amount of creaminess. This popular dish hails from the Indian subcontinent and is noted for its creamy and smooth butter taste, you can make it more spicy by adding an extra 1 tsp of red chili powder if desired. Otherwise this is a mild curry compared to other traditional Indian dishes. In comparison we would rate the spice level of this dish to other Indian dish, a 4 out of 10.  We hope you enjoy this tasty dish as much as we do! Serve it alongside some naan bread and enjoy!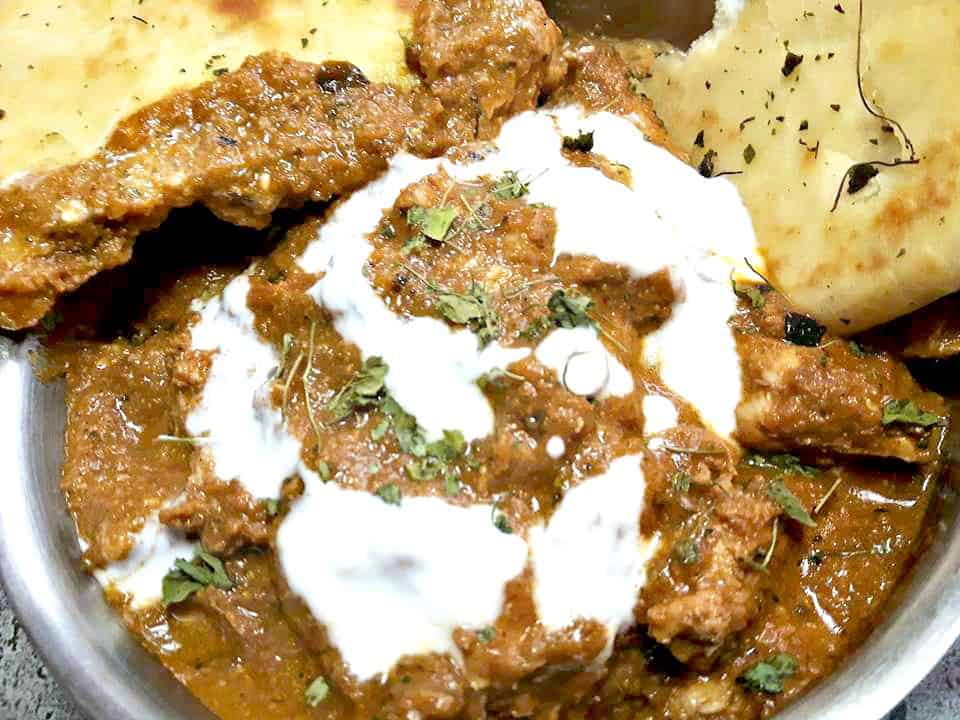 Kitchen Essential:
We don't add as much cream to this Butter Chicken as most do, which will give it a more orange color. If you want that type of Butter Chicken just add 1 cup of cream opposed to the 1/4 cup this recipe calls for. 
To make the Chicken Karahi:
Pressure Cooker: Cook for approx. 10 minutes – after following the initial steps.
Slow Cooker: Place on LOW for 3-6 hours HIGH for 6 hours. – after following the initial steps.
Stove Top: Cook on low for 30 minutes. – after following the initial steps.
Start by washing and dicing up your chicken, place in a bowl to marinade.
Add in ginger/garlic paste, red chilli powder and salt to the bowl and mix everything together.
In your pot/pan heat the cooking oil and fry the marinated chicken till no longer pink, once cooked set aside in a clean bowl.
In the same pot/pan add onion, butter and cook till translucent.
Next add in the diced tomatoes, yogurt, cream, red wine vinegar and simmer for 2 minutes.
Next add in sugar, garam masala, chili powder, onion powder and remaining salt simmer for 15 minutes.
Once cooled down, pour all the mixture into a "FOOD PROCESSOR" and puree till it's creamy.
Pour the mixture back into the pot/pan and 4 tbsp of butter and the cream.
Add your cooked marinated Chicken back into the pot, along with kasoori methi "fenugreek leaves" simmer for 5 minutes.
Serve in a bowl along with rice or naan bread and garnish with cream and more kasoori methi.
Enjoy!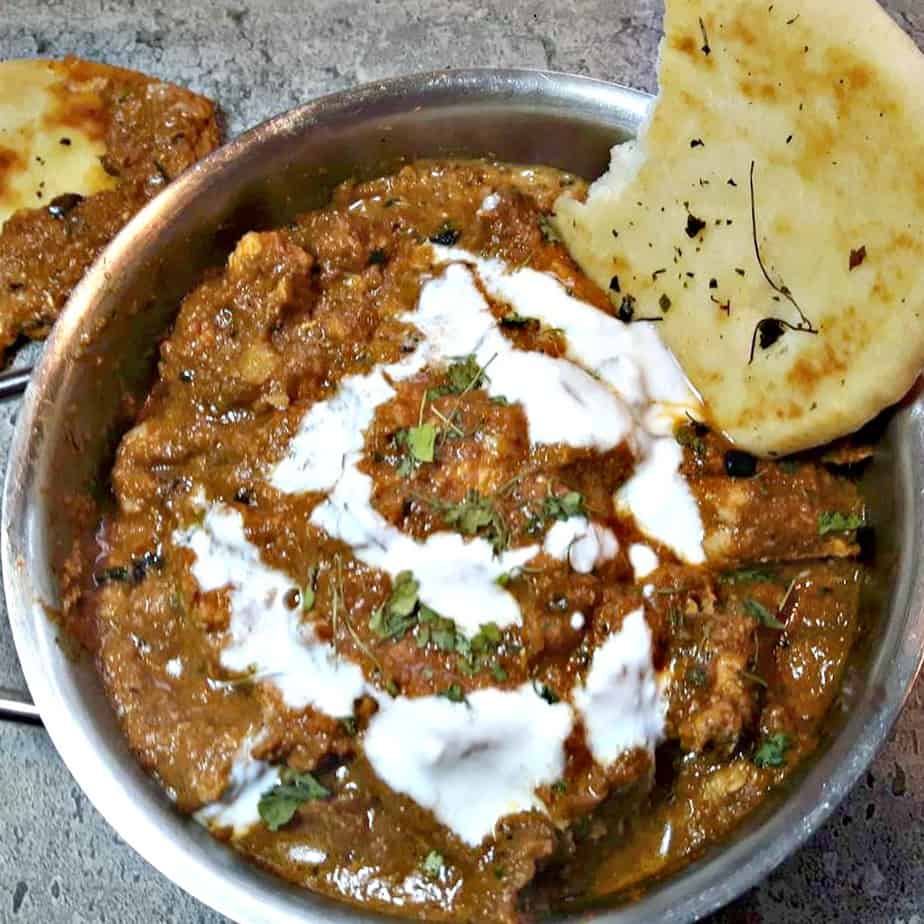 Here is a great recipe for NAAN bread, that goes amazingly well with this dish. 
Kasoori Methi = Dried Fenugreek Leaves. 
Bubba says you won't believe how good this Butter Chicken tastes!
Note: You can add 1/2 cup of cashews to the food processor for a nutty flavor. Also if you want a more creamy butter chicken add 1/2 cup of cream opposed to the 1/4 cup that I added.
I am so thrilled you are reading one of my recipes, if you made this recipe id love to hear about it! You can post a review/picture below or via Instagram and let me know how it turned out. And by doing so you will be automatically entered into our seasonal CONTEST to win one of our great prizes. Winner will be notified via email within a week after the contest closes. Thank you very much for reading and until next time see ya in the kitchen. Don't want to miss a recipe? Sign up for our NEWSLETTER delivered right to your inbox!