Ingredients
Sauce

2 tbsp

Whole Dijon Mustard

Pinch of Salt and Pepper to taste
Directions
You're going to love how tasty this Blueberry Honey Mustard Salmon is not to mention how easy it is to prepare.  The clean up is by far my favorite part, because all we are doing is placing everything inside a piece of tinfoil. Which helps to produce such a moist and flaky salmon that everyone is sure to love. It's best to use a high quality salmon for this recipe, and fresh is best however you can use frozen too. Just make sure it's a high quality salmon, because that will make a huge difference in how it turns out. With very little prep, you can have this dinner on the table in just under 30 minutes. Oh and don't forget the diced red pepper, this balances it out well. You can always prepare some rice on the side or eat it as is, making it a gluten free/Paleo meal. Delicious!
Flaky,  Moist, Flaky, Moist and full of flavor.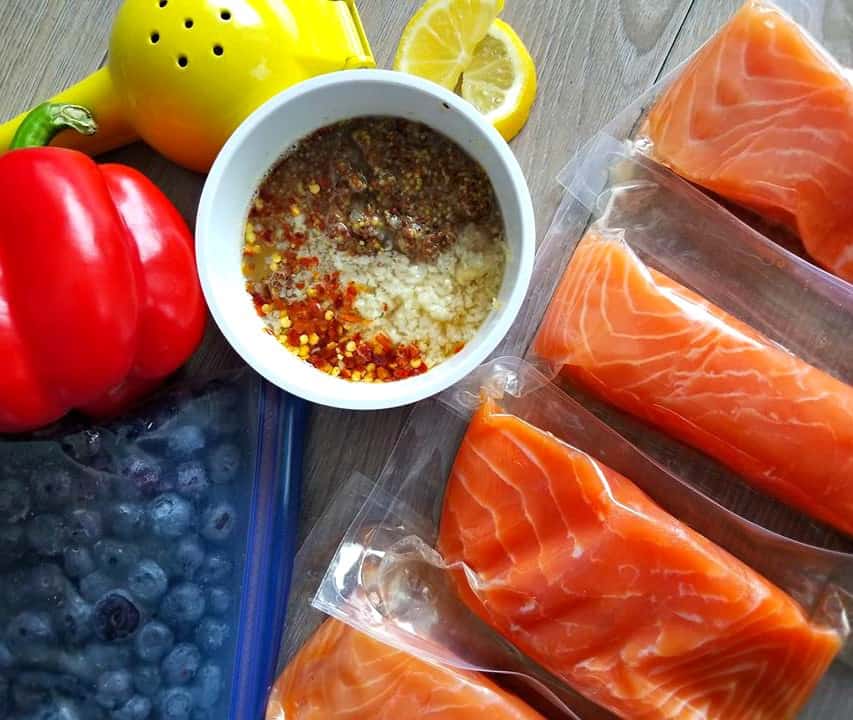 To make the Blueberry, Honey, Mustard Salmon fillets:
Start by rinsing off your salmon fillets and pat them dry.
Preheat the oven to 400 f
On a baking sheet, lay out two large pieces of tin foil side by side. YOU will need this much to seal the fish and the other ingredients.
Lay out your salmon fillets on the tinfoil, and season with salt.
Melt your honey in a small bowl and add the whole dijon mustard, plain dijon, lemon juice, red pepper flakes and minced garlic cloves.
Take a basting brush and coat the salmon, pouring the remaining overtop.
Dice the red pepper, and place all around the salmon.
Scatter the blueberries all over and onto the salmon.
Cut 1 lemon into wedges and place around the salmon.
Place in the preheated oven for 20 minutes, till the salmon is opaque and flaky.
It's ready, enjoy!
Note: You can serve with rice/qunion or any side you prefer.
Two pieces are very filling, you really don't need any side. 
I am so thrilled you are reading one of my recipes, if you made this recipe i'd love to hear about it!You can post a review, picture below or via Instagram and let me know how it turned out. And by doing so you will be automatically entered into our seasonal CONTEST to win one of our great prizes. Winner will be notified via email within a week after the contest closes. Thank you very much for reading and until next time see ya in the kitchen. Don't want to miss a recipe? Sign up for our NEWSLETTER delivered right to your inbox every Month!
PIN IT FOR LATER