Directions
These

Blackened Tilapia Fish Tacos

are served with a creamy spicy Sriracha Mayo and are absolutely delicious.

So if you're looking for a quick meal idea that can be on the table in less than 15 minutes. Then you just may of found it!
SO WHAT MAKES THE TILAPIA BLACKENED
It is the seasonings of course, because really all you are going to want to do is sear the fish on each side for 3 minutes in butter.
Which results in a blackened look and slightly crisp texture!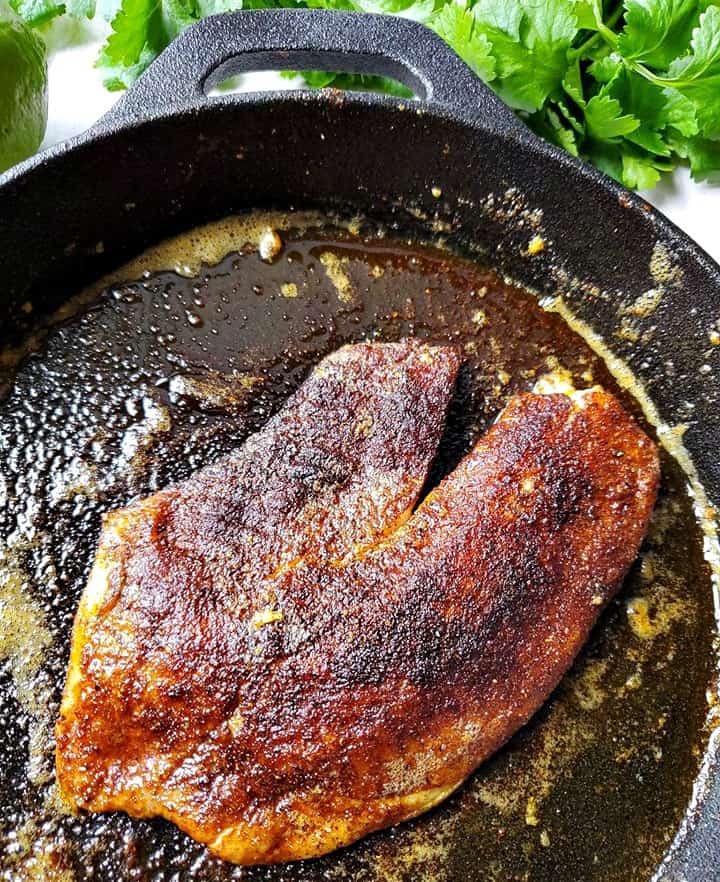 BLACKENED FISH TACO SEASONING
2 tbsp of Chili powder
1 tsp of Cayenne powder
1 tsp of Smoky paprika
1 tsp garlic powder
1 tsp of cumin powder
1 tsp of seasoning salt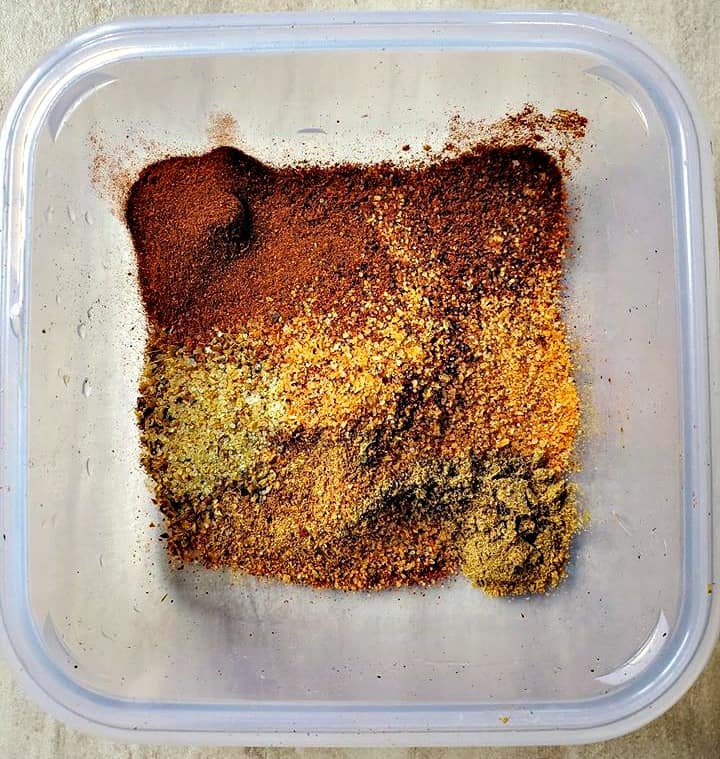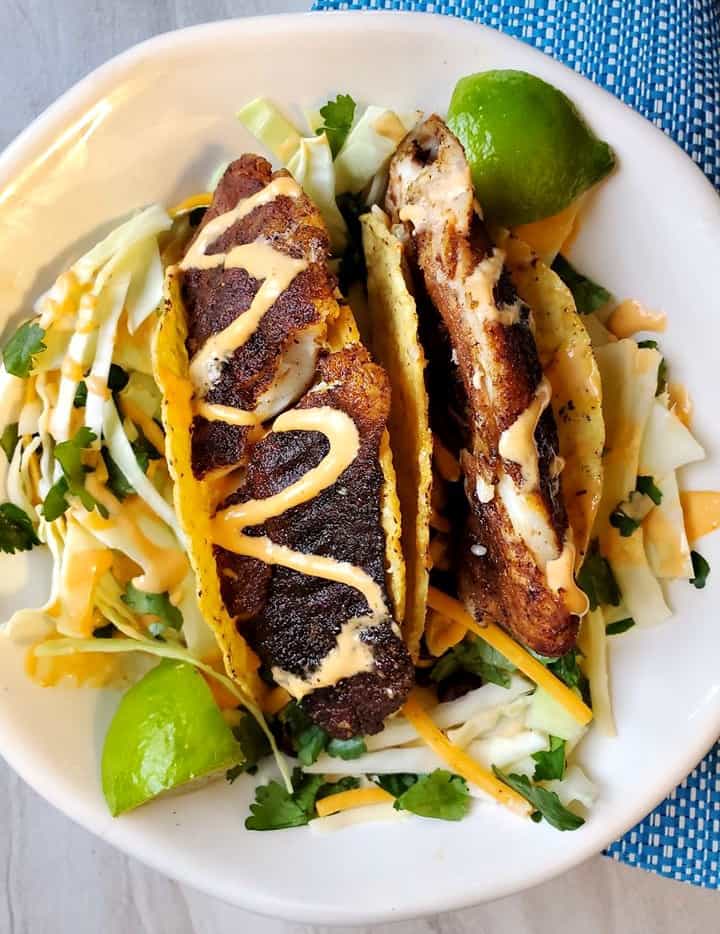 Basically all your going to need for this recipe is some shredded cabbage, tex mex cheese, sriracha mayo along with "Fresh Tilapia" and a few seasonings.
HOW TO MAKE BLACKENED TILAPIA TACOS
I would not recommend using frozen fish for this recipe, you are looking for a few fresh fillets here.
The fresher the better, which will produce a moist and flaky fish taco.
This type of fish can also be served in burritos, tacos, and or over rice with beans.
You can also substitute the tilapia for another white fish such as halibut or cod.
Then simply season and saute in a cast iron skillet on medium heat till done.
WHAT TO SERVE WITH TILAPIA
Jasmine or Basmati rice
Salad
Vegetable of your liking
WHAT TO SERVE ON Blackened Tilapia Fish Tacos
Cabbage slaw with Sriracha Mayo ( recipe included in this recipe below)
Cabbage Pico De Gallo
Pico De Gallo
Cheese
Avocados
Cilantro
Lime
If you decide to make "pico de gallo" just make sure you make it a few hours ahead of time.
As it needs a little time to marinade to taste best. However because their is tomatoes in it, you will want to eat it the day of.
WHAT IS SRIRACHA MAYO
Sriracha mayo, is just that. Sriracha sauce mixed with mayonnaise. You can either by the store bought variety or make it at home from scratch. If your making it from scratch be sure to use "Hellman's mayonnaise" nothing else compares.
BEST STORE BOUGHT VARIETY
HOW TO MAKE SRIRACHA MAYO
FROM SCRATCH: INGREDIENTS
1/2 cup mayo
2 tablespoons Sriracha chili sauce (bottled)
1 tbsp of lime juice
1 tsp of garlic powder
Salt to taste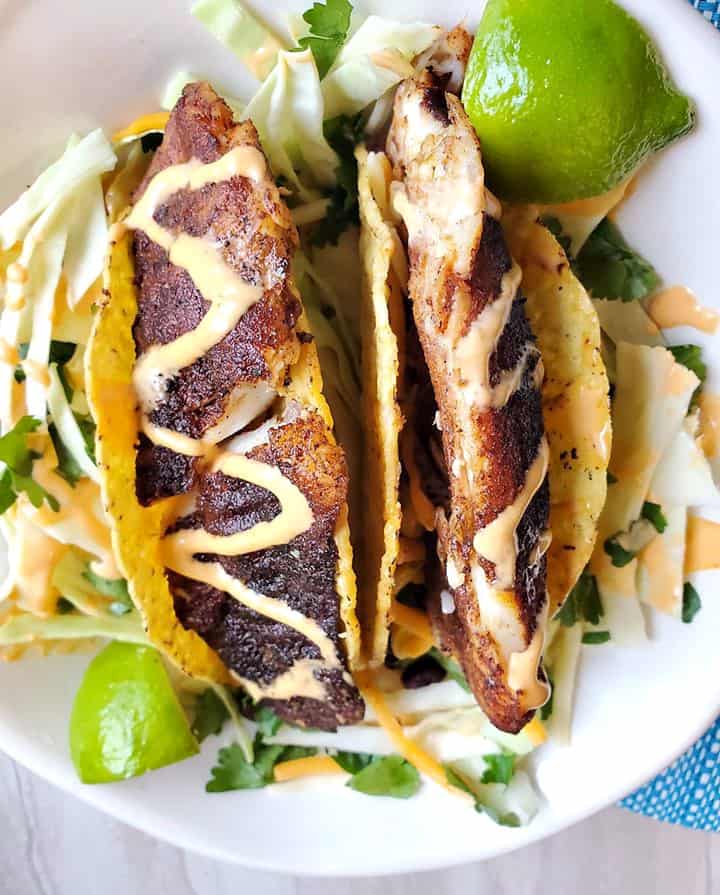 These Tilapia fish taco are unbelievable and make for an excellent weeknight meal in a hurry.
Their really is nothing to making them.
Also don't forget to squeeze some fresh lime juice over top the fish at the end, this really helps the flavors to pop.
This recipe can feed roughly 2 people, so if it's just the two of you dining tonight then there certainly are going to enjoy!
If your wanting to feed more people, simply MAKE more by doubling the ingredients!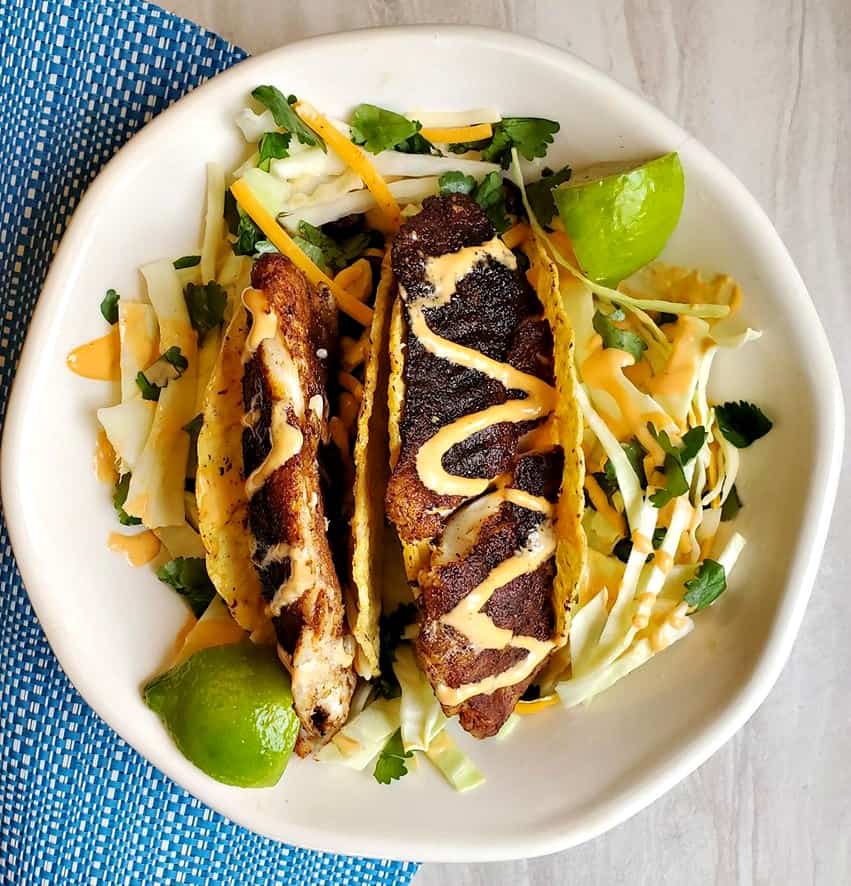 Be sure to make the salsa one hour ahead of time, as it's best to let the salsa marinate which enhances it's flavors.
Check out my two favorite recipes for Pico De Gallo below you will serious love them!
Pico De Gallo this goes great with these tacos.
Cabbage Pico De Gallo this also goes great with these tacos.
DID YOU MAKE THIS RECIPE?
If you make this recipe, I would love to hear about it! You can leave a 5 star review in the comments below! Thank you very much for reading and until next time see ya in the kitchen. Don't want to miss a recipe? Sign up for our NEWSLETTER delivered right to your inbox!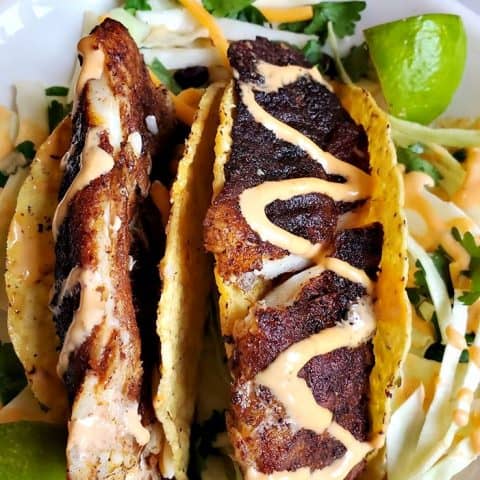 Blackened Tilapia Fish Tacos
Ready in less than 15 minutes!
Ingredients
2 tbsp of butter
1 pound fillet of Tilapia
1 tbsp Sriracha Mayo
1 cup of shredded green cabbage
1/2 cup of tex mex cheese
1 lime
4 tbsp of chopped Cilantro
2 tbsp of Chili powder
1 tsp of Cayenne powder
1 tsp of Smoky paprika
1 tsp garlic powder
1 tsp of cumin powder
1 tsp of seasoning salt
Instructions
Start by adding all your seasonings to a bowl or on a plate and season the fish on both sides completely.
Then in a cast iron skillet or non stick skillet. Add 2 tbsp of butter and melt.
Over medium heat, sear the fish on each side for about 3-4 to four minutes.
Remove the fish from the heat, leave in the pan. And baste with the butter sauce a bit.
Then heat 4 tacos (2 per person) in the microwave or oven for a few minutes till warm.
Add top with the shredded slaw then some tex mex cheese,
Take pieces of the fish and place on top of each shell.
Drizzle ample sriracha mayo over top and a squeeze of lime juice. Enjoy!
Nutrition Information:
Yield:

2
Serving Size:

1
Amount Per Serving:
Calories:

743
Total Fat:

44g
Saturated Fat:

22g
Trans Fat:

1g
Unsaturated Fat:

18g
Cholesterol:

223mg
Sodium:

1676mg
Carbohydrates:

16g
Fiber:

6g
Sugar:

4g
Protein:

76g
LOOKING FOR MORE TACO RECIPES?
Be sure to try these tasty recipes below!