Ingredients
1 (1 inch thick)

Beef shank (bone in)

1 large

Potato

peeled and chopped

4 medium

Beets

peeled and shredded

1/2 large head

Green Cabbage

shredded

1 large

Onion

chopped finely

1 tbsp

Seasoning Salt

or more

Serve

1 tbsp

Sour Cream (Full fat)

per bowl
Directions
This Homemade Beef Borscht is simmered in a healthy beef bone broth and is packed full of flavor. Typical bone broths, take hours to prepare. However with this recipe we are skipping that and doing that part in the pressure cooker.  Unless you would prefer to simmer the stock on the stovetop for 4 hours, but with the pressure cooker you can have the stock done in under 15 minutes.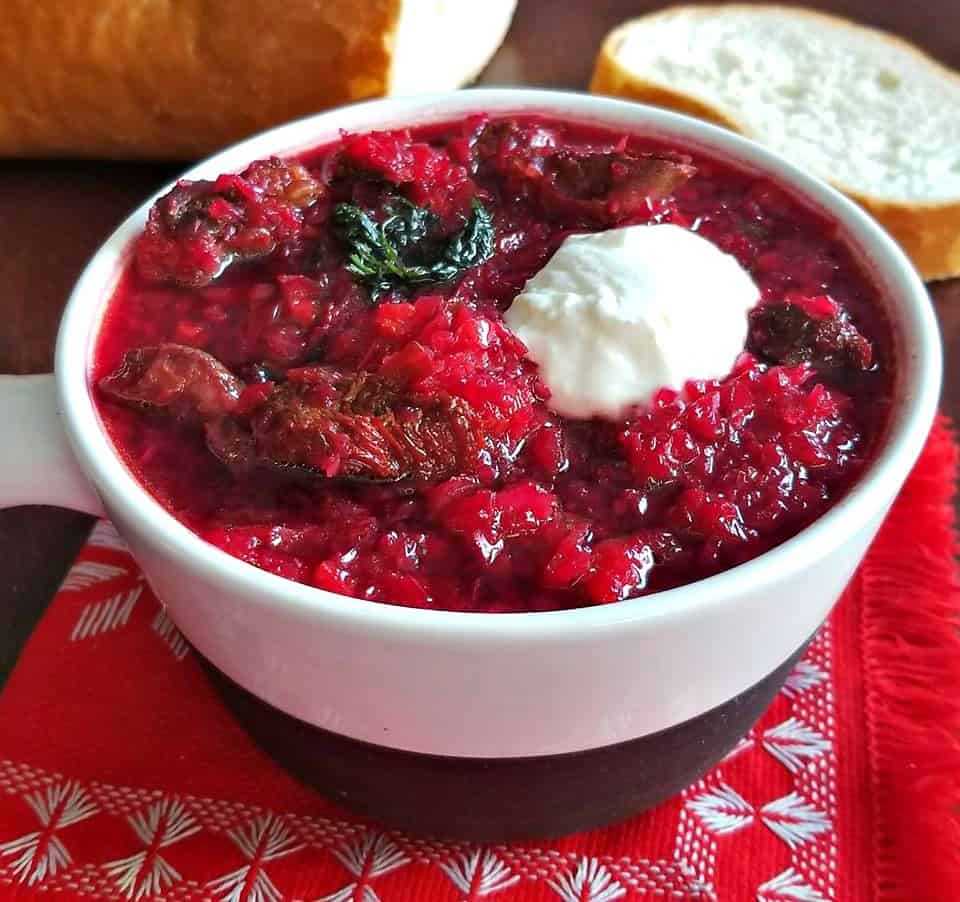 Did you know that consuming bone broth is actually good for you? Yes it's true, bone broth has many healthy benefits such as join protection, gut health, skin, immune support and even helps to detoxifies you. 
The bright red beets and bone broth carry so many health benefits, it's no wonder I feel so great after eating this soup for a couple of days. Traditionally borscht is made with beef stock and chunks of beef, however I much prefer my make mine with beef shanks. This way I can make a healthy bone broth that becomes my base for this soup. If you want beef chunks in your borscht then simply add any kind of beef chunks to the soup separately, I used beef stewing meat. If your beef does not easily come off the bones, simply take two forks and shred it off and place directly into the soup.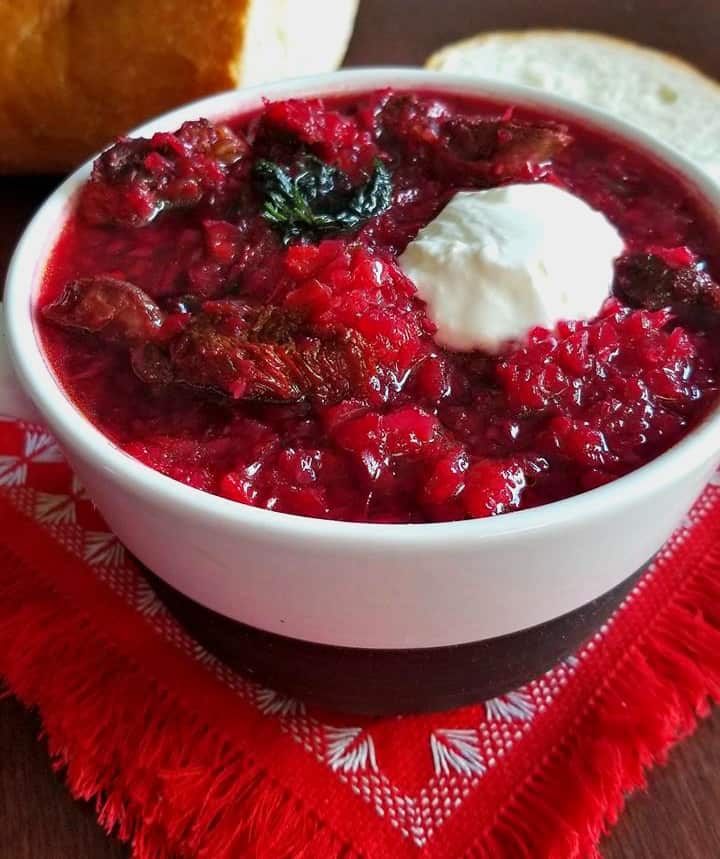 This recipe will make a large pot of soup, so if you have any any leftovers "which is highly unlikely" unless it's just you. Then you can enjoy it over the next few days or freeze it as a meal prep option for another time. Plus the flavours in this soup develop and improve overnight, so don't be afraid to make a large batch. There are plenty of ways to preparing borscht soup, and I prefer this version the most. Why? Well because one it's simpler and two it takes less time to prepare. To make this soup you will want to have a pressure cooker and food processor, which will saves you a ton of time. Otherwise you can use a grater to get the job done, but be prepared to put some extra work into it. I much prefer using the food processor as I'm able to shred most of my vegetables up very finely as opposed to chunky. After all this is a soup not a stew, right? Same with the beef if your using stewing beef, simply cut it up small enough to fit in a spoon. Sunflower oil is traditionally used also, so if you have some on hand I recommend using it. Serve alongside some crusty bread and  a dollop of sour cream and some dill and you will be in borscht heaven!
To make the Beef Borscht Soup:
Start by rinsing and possible scrubbing the beets to remove any dirt and set aside.
Peel the carrots and half the cabbage and set aside.
Slowly add your peeled carrots to the food processor, dice and set aside.
Slowly add the cabbage chunks to the food processor shred, and set aside.
Peel each beet and then cut into fours and place 2 at a time in your food processor shred, and set aside,
Turn the slow cooker to brown and place in the sunflower oil and cook the beef shanks till browned lightly on both sides. 
Add in the chopped onion and season with 1 tsp of seasoning salt, saute on the brown setting till the onion are translucent.
Pour in the water and place in the bay leaves.
Making the STOCK: Pressure cook the Beef with Bones, according to your pressure cookers instructions till tender. "I use the salton slow/pressure cooker and set mine high to 10.
Once pressure cooked, allow the steam to release before removing the lid.
Remove the beef shanks, and discard the bones.
In a large soup stock pot, pour all the bone broth, beef, 1 box of beef broth, shredded beets, cabbage, carrots and sugar.
Add in the tomato paste and simmer with 1 tsp of seasoning salt till vegetables are tender, roughly 10 mins.
Taste to see if more seasoning salt is needed, if so add 1 tsp at a time, then add in your pepper and balsamic vinegar.
Add in your fresh dill and allow this all simmer another 1o more minutes all together.
Serve with sour cream and some crusty bread.
Enjoy!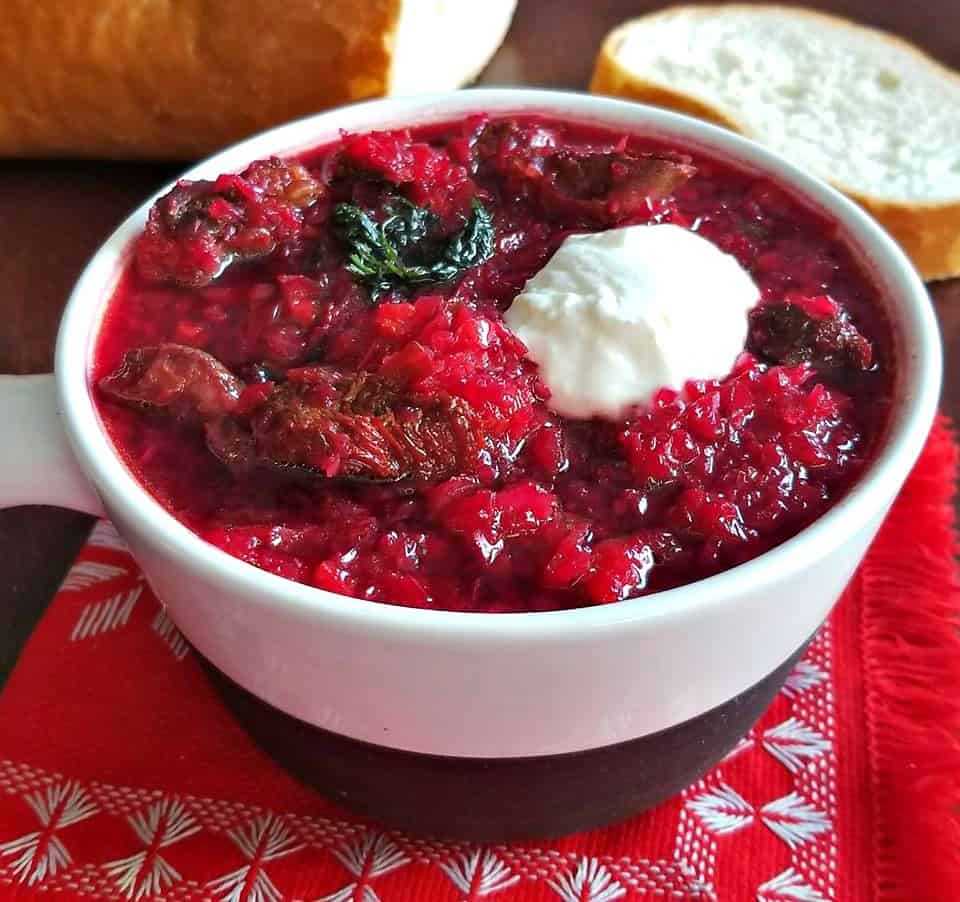 Save yourself time and hassle, and let your food processor chop up your beets and cabbage up, also it gives a great consistency to the soup. Feel free to add a peeled and chopped if desired to step 13 of this recipe or omit as I have.
Notes: Keep in mind, as with all my recipes. If you want to make more or less of this soup, simple adjust the serving size in the ingredients section above and the servings will automatically adjust for you.
Looking for a Vegetarian Borscht recipe? Check out my other recipe here for Ukrainian Borscht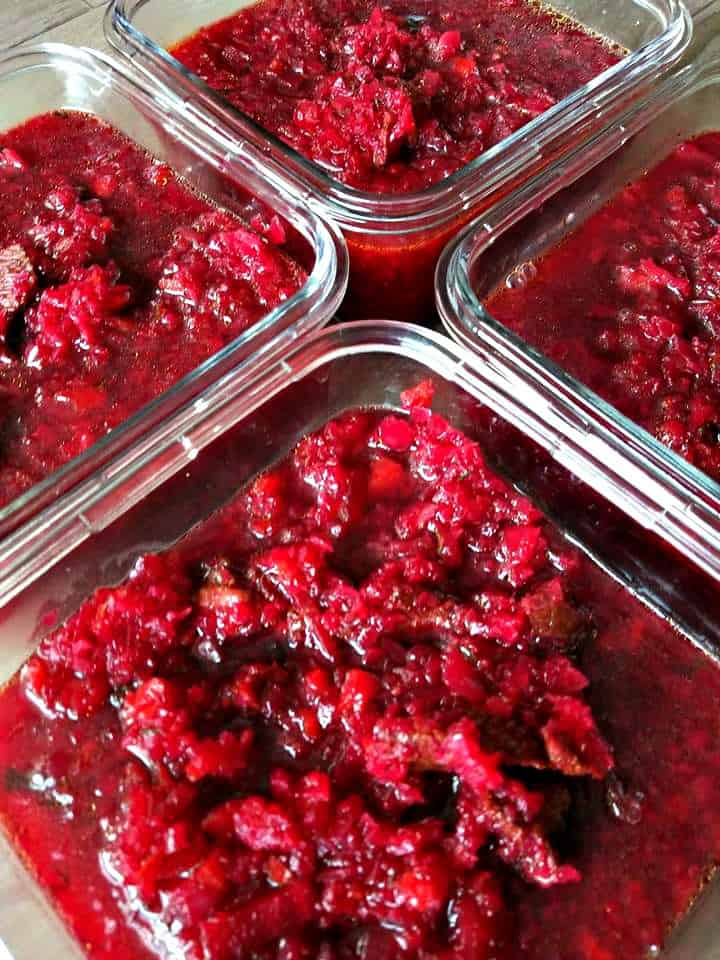 Create 4 or 5 meal preps for the week with the remaining soup 
I am so thrilled you are reading one of my recipes, if you made this recipe id love to hear about it!You can post a review, picture below or via Instagram and let me know how it turned out. And by doing so you will be automatically entered into our seasonal CONTEST to win one of our great prizes. Winner will be notified via email within a week after the contest closes. Thank you very much for reading and until next time see ya in the kitchen. Don't want to miss a recipe? Sign up for our NEWSLETTER delivered right to your inbox every Month!
PIN IT FOR LATER