15 Awesome Whole Chicken Recipes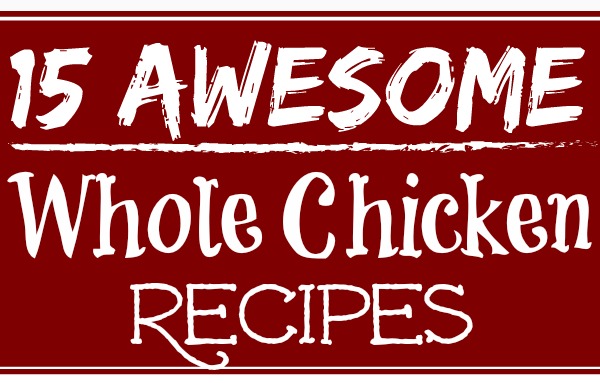 15 Awesome Whole Chicken Recipes
Here is a list of 15 diverse and delicious recipes that utilize whole chickens. If you love chicken as much as me then your going to go bonkers for these recipes. They range from sweet to spicy and everything in between. I like to include a recipe in each roundup that is sure to please everyone's pallet. So here I have compiled a list from some of the most tantalizing whole chicken recipes that I have found from around the net with the permission from some of my food blogging friends.
I like to buy my whole chickens when they are on sale. Then I will prepare a few of my favorite recipes with them, typically on a saturday or sunday. This allows me to freeze a few all at once, allowing me to have some easy to prepare meals on those days when i'm just too busy to cook. Just be sure to buy them when there fresh if your planning to freeze them after.
In no particular order here are 15 Awesome Whole Chicken Recipes
Most recipe you see here can be made in 1 hour. Below is a list of must have cooking essentials to make either of these delicious chickens.
I hope you give some of these delicious and unique recipes a try! I would love to know if you tried any of them and what you thought? Thanks to all the contributors for giving me permission to included there recipes in this list!
1. Portuguese Peri Peri Chicken
If you like your chicken with a little spice like me then you are sure to love this recipe that hails from Portugal, ARIBA PORTUGAL! The secret is in sauce. Click here for the recipe: Peri Peri Chicken
2. MAPLE ROAST CHICKEN WITH VEGETABLES
This chicken will blow your mind! Every time I make it, I can't wait for it to come out of the oven! Waiting to carve it is excruciating and if your lucky enough to have leftovers you will be eating it for lunch too. Find the recipe here: https://www.theorganickitchen.org/maybe-my-best-roasted-chicken-yet-maple-roast-chicken-with-vegetables/
3. Smoky Paprika Lemon Herb Chicken Under a Brick Recipe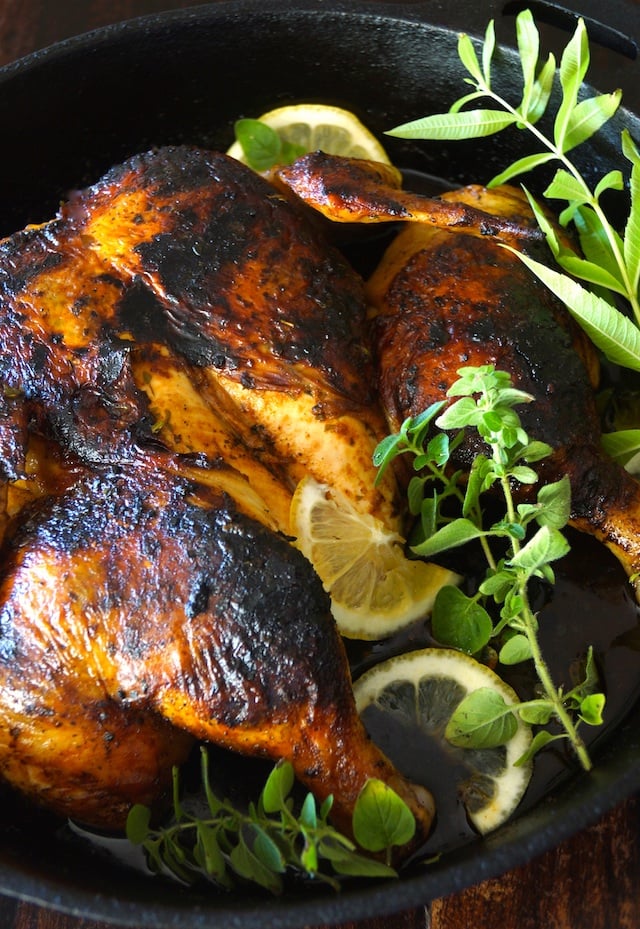 It's easy to learn how to make chicken under a brick! This Lemon Herb Chicken Under a Brick recipe is packed with fresh, smoky and tangy flavors, and this cooking method makes it the most succulent, delicious chicken of all time! Click here for the recipe: https://cookingontheweekends.com/lemon-herb-chicken-under-a-brick-recipe/
4. ROASTED APRICOT CHICKEN WITH HERBS DE PROVENCE
5.Thyme-Roasted Chicken with Potatoes
A mix of sweet potatoes, red potatoes and green beans roast together with an herb kissed chicken for a wonderful one pan meal in this Thyme-Roasted Chicken and Potatoes. Post may contain affiliate links. Recipe can be found here: https://www.sidewalkshoes.com/thyme-roasted-chicken-with-potatoes/
6. WHOLE ROASTED MEXICAN CHICKEN WITH VEGETABLES
Crispy skin flavored with Mexican spices gives the traditional roasted bird a delicious flair! Better yet, you can roast the whole chicken with peppers, onions, and carrots for an easy, delicious vegetable side to make this a One Pan Whole Roasted Mexican Chicken Dinner!
Click here to read the recipe:https://houseofnasheats.com/whole-roasted-mexican-chicken
7. Creamy Lemon and Herb Pot Roasted Chicken

This creamy lemon and herb pot roasted chicken is simple to make, decadent, and bursting with fresh flavors. See how easy it is to make chicken in a Dutch oven! You will love this one pot meal. Click here to read the recipe: https://www.saltandlavender.com/creamy-lemon-herb-pot-roasted-whole-chicken/
8. APPLEWOOD SMOKED ORGANIC, FREE-RANGE CHICKEN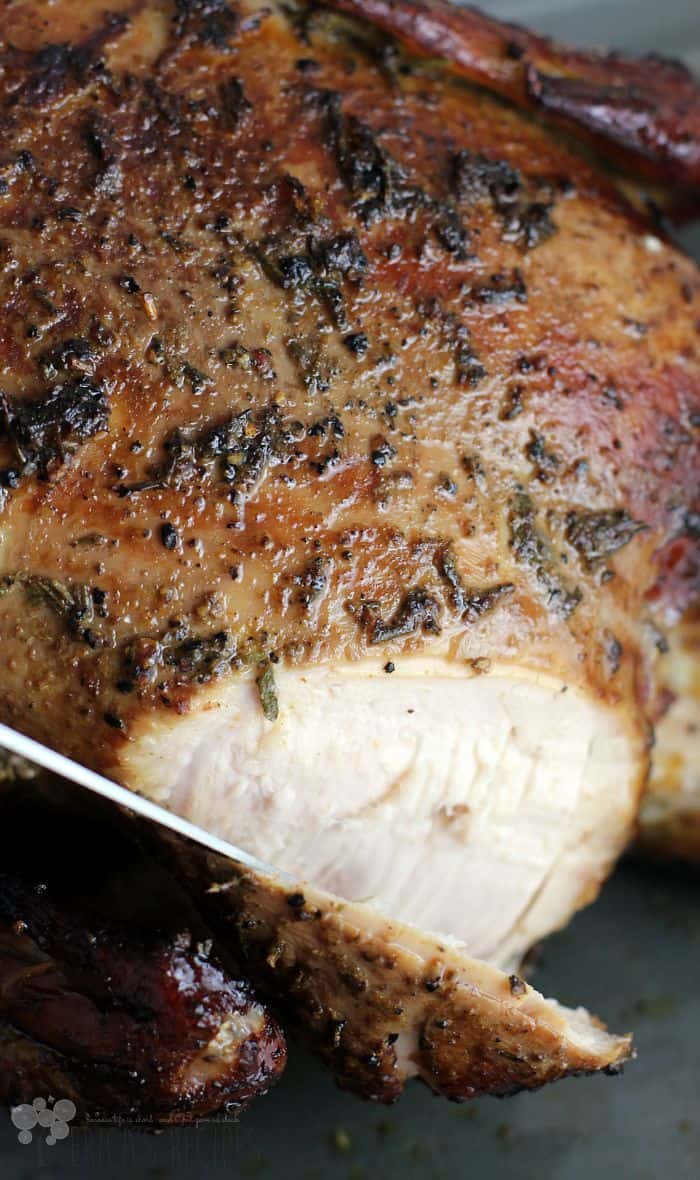 This Applewood Smoked Organic, Free-Range Chicken post includes not only how to make this smoky lovely, but also my tips on how to eat more organic affordably. Click here to read the recipe: https://ericasrecipes.com/2015/08/applewood-smoked-organic-free-range-chicken-plus-5-strategies-for-making-organic-eating-affordable/https://www.chefdehome.com/recipes/844/mexican-tortellini-salad
9. ZERESHK POLO (BARBERRY RICE WITH SAFFRON CHICKEN)

This Zereshk Polo recipe is an adapted version of the classic Persian rice dish. It is a tangy sweet mouth watering feast with plenty of protein, healthy fats and is phytochemical rich!! It is also gluten free. Cook this Barberry Rice with Saffron Chicken and add a touch of delicious opulence to the table at any banquet!Click here for the recipe: https://www.thedeliciouscrescent.com/barberry-quinoa-rice-with-saffron-chicken/
10.WHOLE CHICKEN AND CABBAGE RECIPE IN A DUTCH OVEN/BRAISER
Whole Chicken And Cabbage Recipe In A Dutch Oven/Braiser – simple and delicious dinner, made with juicy whole chicken, seasoned with salt, pepper and paprika and baked in the oven with cabbage. This Whole Chicken And Cabbage makes a delicious weeknight or holiday dinner. Find the recipe here: https://cookinglsl.com/whole-chicken-cabbage-recipe-in-a-dutch-oven-braiser/
11.Citrus Rosemary Oven Roasted Chicken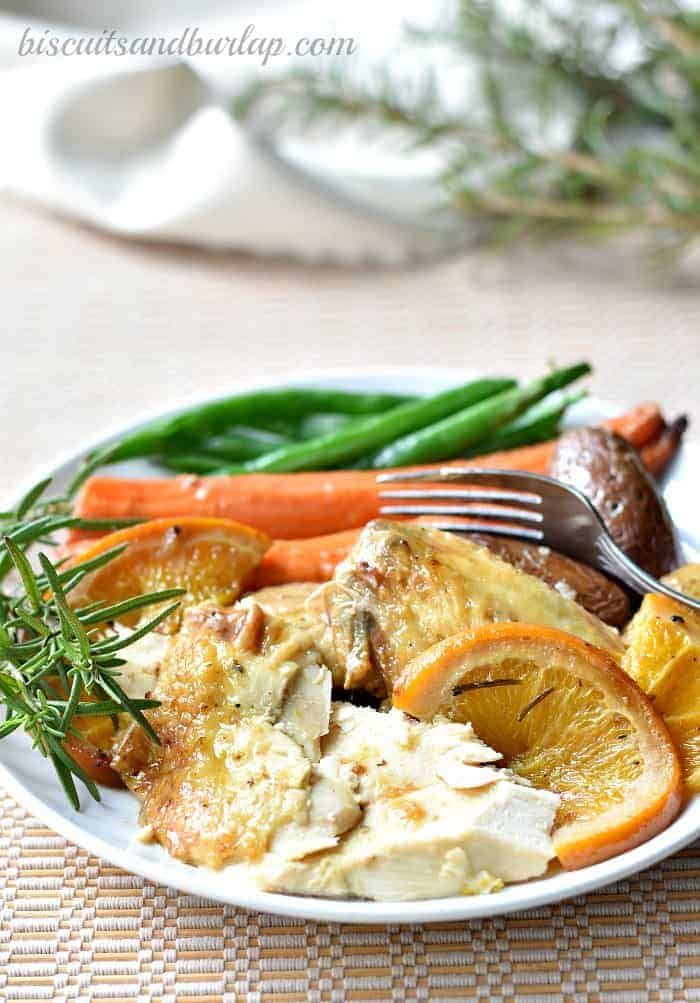 This roasted chicken is stuffed with lemons and oranges, rubbed with rosemary butter, and baked atop carrots and potatoes to make a complete meal the whole family will love. Find the recipe here: https://www.biscuitsandburlap.com/2018/02/20/citrus-rosemary-oven-roasted-chicken/
12. Thai Green Curry Roast Chicken
While making your own green curry paste is very rewarding (and delicious), unless you can find the authentic ingredients, it's really not worth it. The paste needs to be made in a mortar and pestle for best results, so you get the most flavor out of the ingredients. I have made it in a mini processor before, and while it was faster, the results were just OK, and definitely not the same as when you use a mortar and pestle. But if you can find a good curry paste in the store, then you can obviously save the time and effort of making it at home.Click here for the recipe: https://www.theflavorbender.com/green-curry-roast-chicken/
13. HEALTHY BARBECUE BEER CAN CHICKEN WITH MOLASSES & BEER BBQ SAUCE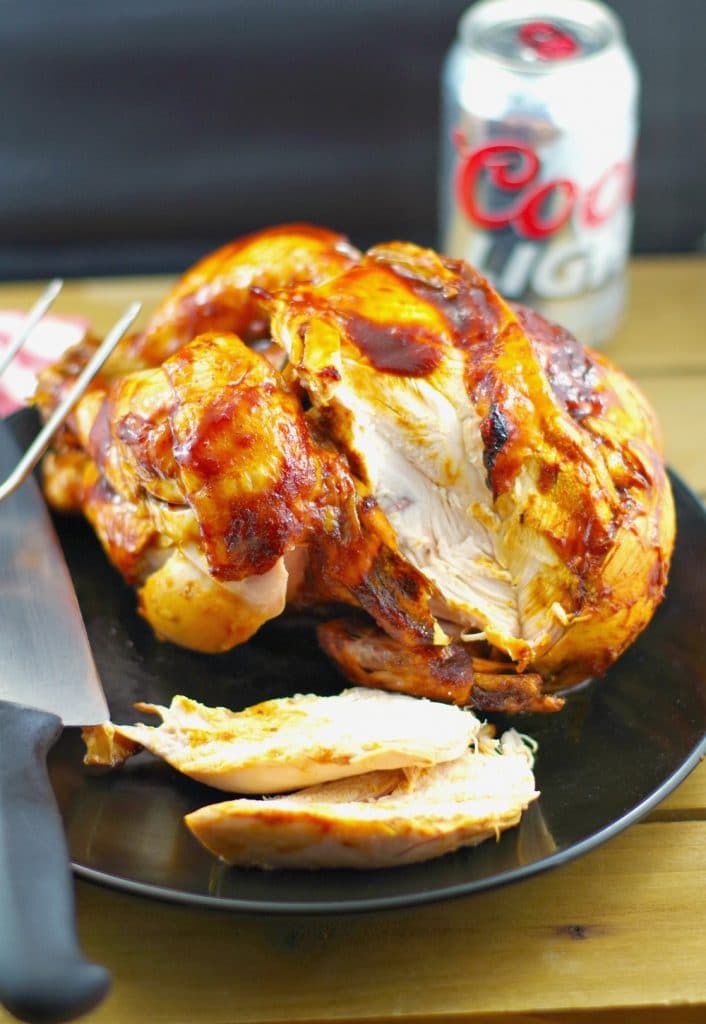 BBQ chicken is obviously one of my faves and this easy, Weight Watchers Friendly Barbecue beer can chicken, also known as beer butt chicken, is no exception and the perfect meal for your Father's Day BBQ dinner.Find the recipe here: https://foodmeanderings.com/beer-can-chicken/
14. ROASTED HERB CHICKEN WITH MANDARIN ORANGE

If you love roasted chicken, this roasted herb chicken is an easy dinner recipe you will want to make again and again! This oven roasted chicken recipe is full of all of the good stuff, garlic, fresh herbs, and sliced oranges. You will love how moist and flavorful this roasted chicken is! Find the recipe here: https://www.fearlessdining.com/roasted-herb-chicken-with-mandarin-orange/
15. CUBAN MOJO CHICKEN
This Cuban Mojo Chicken is infused with a flavorful Mojo marinade made with citrus, garlic and spices, then oven roasted until golden brown, juicy and tender! This mouthwatering Mojo Chicken is perfect for dinner any day of the week and also fabulous for company! Find the recipe here: https://www.lemonblossoms.com/blog/cuban-mojo-chicken/
I'm thrilled to have you here ? if you made any of these recipe i'd love to hear about it! Don't want to miss a recipe? Sign up for our NEWSLETTER delivered right to your inbox!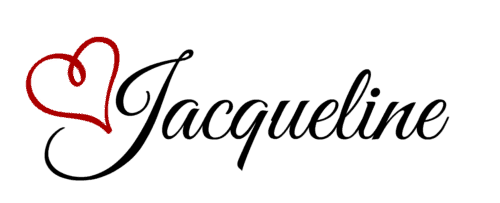 Canadian Cooking Adventures is a participant in the Amazon Services LLC Associates Program, an affiliate advertising program designed to provide a means for sites to earn advertising fees by advertising and linking to Amazon properties including, but not limited to, amazon.com